Smart Grid Fund helps secure Ontario' energy future
ONTARIO, DEC. 1, 2014 - Ontario, Canada, is building a smarter electricity grid by supporting 17 new energy projects through its Smart Grid Fund program.

The province will provide almost $24 million, supporting about $54 million in total electricity sector investment, expecting to create more than 350 jobs.
"Ontario's commitment to supporting leading-edge Ontario-based smart-grid projects is helping to create Ontario jobs and make Ontario a North American leader in emerging energy technologies. These projects represent an investment that will have long-term positive impacts on the energy sector's contribution to developing innovative technologies, fostering economic development and promoting job creation."
-- Bob Chiarelli, Minister of Energy
This round of funding will support advanced energy technology projects in the areas of:
*Energy storage: to allow energy to be stored and brought back to the grid on request to balance system needs.
*Electric vehicle integration: to assist customers and utilities in managing the unique electricity system challenges associated with electric vehicle (EV) adoption.
*Behind the meter: to enable two-way information exchange between consumer and the utility in order to improve system efficiency and consumer cost management.
*Microgrids: to help localized groups of electricity generation, energy storage, and loads that function autonomously from the main electricity grid function more efficiently.
*Grid automation: to use innovative software and hardware to help the system operator remotely control and manage the electricity grid.
*Data analytics: to find new ways to use data generated by smart meters and other electricity grid assets to help improve investment decisions and system performance.
A smart grid is a modern, intelligent electricity system. It uses advanced communications and control technology to improve the flexibility, reliability and efficiency of the electricity system. Ontario's Smart Grid Fund supports projects that test, develop and bring to market the next generation of smart grid solutions.
Building a smart grid and supporting innovation is part of the government's economic plan for Ontarioa. The four-part plan is building the province up by investing in people's talents and skills, building new public infrastructure like roads and transit, creating a dynamic, supportive environment where business thrives and building a secure savings plan so everyone can afford to retire.
QUICK FACTS
*The Smart Grid Fund is a $50 million program that supports high-value opportunities to advance energy innovation in Ontario, Canada.
*Launched in April 2011, the Smart Grid Fund has supported eleven projects to-date, creating more than 600 direct and indirect jobs.
*Ontario, Canada's smart grid is supported by 4.8 million smart meters installed in homes and businesses across the province.
*A smarter grid is better able to detect, prevent and restore outages, gives families and businesses more tools to manage their power use, and further reduces greenhouse gas emissions by making it easier to connect renewable energy to the grid.
ONTARIO SMART GRID FUND PROJECTS
Ontario is building one of the most advanced electricity grids in the world. The Smart Grid Fund has been supporting these innovative projects and the development of a modern, intelligent electricity system since 2011.
METERING
Energate (consumer energy monitoring tools)
Energate is developing tools that make it easier for consumers to monitor and manage their home energy use and costs. Energate's software, mobile applications, and devices—like smart thermostats and in-home energy displays—also help to manage the system by reducing peak demand.
Energate (consumer dynamic pricing tool)
Utilizing programmable thermostats, this project proposes a pilot demonstration of a customer opt-in dynamic pricing solution. One thousand residents enrolled in Powerstream's "Advantage Power Pricing" program will be able to monitor and control their electricity consumption in response to peak pricing schedules set by the utility.
McMaster University
This project will design various dynamic pricing programs. Participants will select among several different pricing plans that, when combined with direct consumption feedback, will provide participants with a breakdown of their energy consumption by appliance. Changes in consumption due to pricing and feedback will be measured for conservation impacts.
Rogers Communications
Rogers is testing new technology that will allow customers to have greater control over their energy consumption and manage monthly costs, while contributing to a more efficient energy grid.
DATA ANALYICS
Essex Energy Corp.Essex Energy Corp. is developing software to integrate data sources from a variety of technologies, including smart meters, to monitor the state of the electricity distribution system and alert operators to system problems.
IBM
IBM is creating a research collaboration centre that will use and analyze smart meter data. The project will use this data to identify ways to improve conservation and shift usage away from peak times.
LocalGrid
Combining line sensor data with anonymous smart meter data and other pieces of information to develop a software solution and user interface that helps utilities analyze and report on relevant operations, including outages. This project will also include a microgrid component.
Sault Ste Marie Innovation Centre
Develop a financial analytics solution that will analyze smart grid investment options for utilities, model existing infrastructure, and conduct predictive maintenance analysis.
ELECTRIC VEHICLE INTEGRATION
CrossChasm
Equipping 30 plug-in electric vehicles with network-enabled data loggers to provide utilities with better visibility of EV-related grid impacts. This will allow charging to be optimized according to grid capacity and user preferences.
Tech Mahindra
Development of an integrated hardware-software solution that allows utilities to gather data on both EV charging patterns and local transformer performance. Enrolling 10-15 EV users in Niagara-on-the-Lake, this project will help utilities plan for future EV impacts on the distribution system, and through an In-Home Display, will help consumers manage energy usage.
University of Ottawa
Develop solutions that incorporate charging and discharging of EV batteries while incorporating secure payment and privacy of user data, as well as an EV charging station locator mobile app.
ENERGY STORAGE
eCAMION
The demonstration of three 250kWh smart energy storage systems in Sudbury, Toronto, and Ottawa, to promote peak management, grid reliability, and increased renewable energy penetration.
Ryerson University's Centre for Urban Energy
Demonstration of a pole-mounted energy storage system to facilitate electric vehicle integration and improve grid stability/reliability.
Electrovaya
The installation 11 Intelligent Energy Storage Systems in Toronto and London to solve issues caused by system congestion and sudden connect/disconnect of electric vehicles.
GRID AUTOMATION
dTechs
dTechs is installing 2225 high resolution wireless sensors on the medium voltage supply in Oakville to help the utility detect issues on their grid, making the system more efficient and reliable.
General Electric
General Electric's Grid IQ Centre is a facility designed to support research and innovation to improve the efficiency, reliability and security of the electricity grid.
GRID20/20
Test the functioning of a line sensor and monitoring system that provides asset loading information, outage notification, conservation voltage reduction and other key utility services.
N-Dimensions
N-Dimensions is developing cyber security solutions to help ensure data gathered from smart meter collector systems remains protected and secure.
Opus One
Developing a Distributed Energy Management System (DEMS) for the monitoring, protection, and optimal control of generation, demand, and storage resources.
Prolucid
Prolucid's project gives local distribution companies more automated control over the management of their systems by pinpointing outages and system faults bygathering better data in real time.
Ryerson University's Centre for Urban Energy
Ryerson University's Centre for Urban Energy will build a smart grid laboratory. The laboratory will provide a collaborative facility for testing and demonstrating Smart Grid ideas and products for Ontario institutions.
Varentec
A demonstration of an innovative solution that helps flatten voltage profiles along secondary distribution feeder lines. The project proposes to deploy devices at strategic locations across Southwestern Ontario, to improve renewable energy integration and reduce line loss.
MICROGRID
Canadian Solar
A real-world laboratory in Guelph focused on microgrid development. The laboratory looks at integrating renewable energy resources at high levels of penetration in both off-grid (remote) and grid-tied remote Ontario environments.
eCAMION
Sixteen residential and commercial loads will be supported by a microgrid based in Woodstock, Ontario. The microgrid will support smart metering technology, energy storage, renewable distributed generation and electric vehicles.
Panasonic Eco Solutions Canada
The construction of a 'grid-tied' microgrid at The University of Ontario Institute of Technology (UOIT) campus in Oshawa, designed to operate as backup power during a utility power outage and provide seamless disconnection and reconnection from the main grid.
Featured Product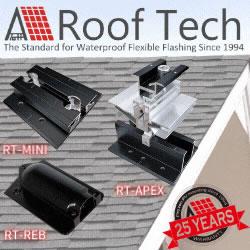 Now Roof Tech brings you the most innovative, watertight mounting systems ever developed for solar photovoltaic systems. Designed and manufactured exclusively for us by Japan's longtime leader in roofing technologies, Roof Tech products are 100% code-compliant and offer fast, simple installation and huge savings on shipping costs due to their compact, rail-less design. Learn more about our full line of versatile PV mounting solutions now available for residential installations. The next generation in rooftop solar mounting solutions."