Clicc solar panels charge the ClicLite internal battery in 4 hours of sunshine and provide a recharge boost via USB to your small electronics: smartphones, iPods, MP3's, and even eCig's, in fact, anything that can be charged via USB.
Mobile. Solar. Modular.

Everyone should have the chance to supply themselves individually with solar energy "to go" and it should be fun – which is why the company has developed pocket sized solar products suitable for everyday use. The USB-solar charger ClicLite is the world's smallest mobile phone charger and contains an integrated, ultra-bright LED flashlight.
The solar charger weighs only 1 ounce and makes a perfect keychain. Inside the ClicLite, we've hidden a high-performance battery with a capacity of 450 mAh. The ClicLite can be supplied with solar energy with the support from Clicc, a 1.5 x 1.5 inch small solar module. One Clicc can be extended with up to four further solar modules, one plugged in per side. Once you've "Clicced" your modules together, it takes 12 hours of pure sunshine with one module, 3 hours with three modules and 2 hours with six modules for Clicc to recharge the USB-solar charger fully and to give your mobile phone one hour of additional usability. Now that's pretty cool.
These products make excellent presents, corporate gifts and we even have a school fundraiser program.
Clicc products are designed and Made in Germany.
Featured Product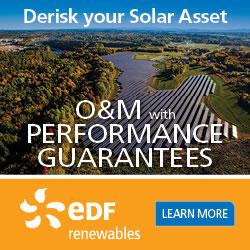 EDF Renewables offers the same innovative solutions that maximize the performance of our own 5.2 GW of installed projects. Because we're not an equipment manufacturer, our recommendations are transparent and data-driven. We cover the entire project lifecycle: from pre-commissioning support, through warranty and post warranty operation, to late stage and decommissioning.