The ORG releases its Feedstock Quality Package to strive for the quality of biowaste delivered to composting.
The Renewable Energy Association's Organics Recycling Group (ORG) announces the Feedstock Quality Package, a best practice guide which will assist in reducing plastics and other physical contaminants in feedstock for composting.

The breakthrough Feedstock Quality Package, advanced and published today by the ORG and supported by local authority representative bodies NAWDO and LARAC, sets best practice guidance for composters and local authorities to work together to improve the quality of feedstocks collected and delivered to composting sites. The ultimate aim of the package is to enable the industry to achieve the required compost quality specifications (e.g. BSI PAS 100) and to drive continual improvement in the quality of composted products.
The three part package consists of a position statement outlining measures compost producers and waste suppliers take to minimise problems arising from physical contaminants in feedstock, an updated input specification template for garden wastes and co-mingled garden/food wastes and a visual assessment guide for site operatives to identify whether a load requires rejection or cleaning up before it is shredded and composted.
REA Senior Technical Officer Kiara Zennaro said:
"I am very pleased that the ORG have finally been able to release its Feedstock Quality Package. By working collaboratively to improve feedstock quality, local government and the composting industry will be able to guarantee the production of quality composts, while reducing processing and disposal costs. Quality is imperative to secure markets for composts, maintain end users' confidence in these products and maximise their value."
The ORG has worked tirelessly with the composting industry and engaged with representative bodies LARAC and NAWDO to introduce a package which will provide assurance to farmers, retailers, growing media, topsoil manufacturers and amateur users that industry and local government are committed to produce high quality products. Quality composts are waste based renewable products that can be used to improve soil heath and quality and enhance nutrient recycling in agriculture, forestry, horticulture and other sectors. They can also be used to partially substitute peat (a significant source of greenhouse gas emissions, also mainly imported) in growing media.
The REA is also working with ADBA and ESA to put together a similar package for AD feedstocks.
LARAC said:
Ď'LARAC fully supports any initiative which helps Local Authorities reduce contamination within recycling and organic waste collections. Local Authorities are an important and vital link in the supply chain providing material for reprocessing in an effective and cost efficient way. Production of high quality materials builds market confidence in recycled products and materials, and is vital as we move towards a resource driven circular economy.''
The Renewable Energy Association is a trade association representing 1000 members across electricity, heating, transport fuels and organics recycling. The REA Organics Recycling Group has almost 100 members.
Featured Product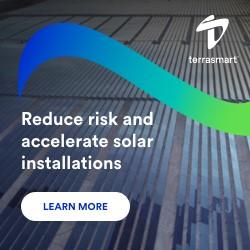 The first and only single axis tracker that allows you to turn unusable land into valuable assets. Built tough for reliable performance, TerraTrak will maximize energy output and returns conquering the most challenging sites. Employ PV where you never thought possible through durable mechanics and intelligent control technology.