Indian government increases solar energy targets to an additional 100 GW by 2022
Mumbai, India and Pforzheim/Freiburg, Germany, November 27, 2014: The sixth Intersolar India, India's largest exhibition and conference for the solar industry, drew to a close on November 20. Here, 160 international exhibitors from the fields of photovoltaics (PV), PV production technologies, energy storage systems, and solar thermal technologies showcased the entire solar industry value-added chain. Around 9,000 visitors, eleven percent more than last year, flocked to the exhibition from all over the globe, underlining the enthusiastic response to the event. Once again, the Intersolar AWARD for Solar Projects in India was awarded in three categories: Off-grid Solutions, Industrial and Commercial Use, and Utility-scale Projects. And for the first time, the Intersolar India Conference was held at the Bombay Exhibition Centre (BEC), where 100 distinguished speakers and 500 conference attendees discussed the latest market developments, new technologies, and application solutions.

From November 18–20, 2014, the Bombay Exhibition Centre (BEC) in Mumbai acted as a magnet to the international solar industry. 160 exhibitors from all over the world attended this year's Intersolar India in Mumbai, and all were extremely happy with their success at the exhibition. "This is a great platform for industry professionals to know about new technologies and about the companies working in this sector. We are extremely happy with the visitor footfall and are glad to see international participation as well," commented Akhilesh Kumar Jain, Managing Director at Rajasthan Electronics and Instruments Ltd. But it was not only the number of visitors that met with praise – the quality of the exhibition and conference was also lauded by attendees. "Intersolar India has given us access to the stakeholder community and with the new government showing strong directions to the solar sector and sourcing material from the domestic industry we can foresee a bright future for the company. We are happily associated since last 3 years and definitely looking forward to participate in future editions also," declares Hemant Joshi, Managing Director at TMEIC Industrial Systems India Private Limited.
India increases backing for solar energy
Around 400 million people in India still have no access to electricity. To counteract this energy deficit, the new Indian government has decided to strengthen the role of solar energy. Today, diesel generators are still in heavy use, both in agriculture and to supply power. The opening session of the Intersolar India Conference on November 18 saw Dr. Rajendra Pachauri, Chairman of the Intergovernmental Panel on Climate and Director General of The Energy and Resources Institute (TERI), talk about the possibilities offered by solar energy in reducing India's greenhouse gas emissions. Large-scale PV power plants, decentralized power generation using photovoltaic installations and heat generation with solar thermal technologies have the greatest potential to solve India's energy supply problems, according to Dr. Pachauri. Public-private partnerships (PPPs) for roof-mounted solar installations may play an important part here: On the occasion of Intersolar India, the International Finance Corporation (IFC) published a white paper entitled "Harnessing Energy from the Sun". This paper uses a pilot program in the state of Gujarat to illustrate how the government, public administration, investors and executing companies can join forces to set up programs for the expansion of solar energy supply.
Solar industry presents technologies and solutions for India's energy supply
In the run-up to the exhibition, the Indian Minister of State for Power, Piyush Goyal, announced that the Indian Government intends to raise its targets under the National Solar Mission from 20 gigawatts (GW) to 100 GW by 2022. At the PV Executive Panel, important representatives of the Indian solar industry appeared optimistic that these new targets can be achieved if the political conditions are right. This particularly applies to photovoltaics. However, existing challenges in infrastructure and financing still need to be tackled if this is to happen. During his visit to the exhibition, Tarun Kapoor, Joint Secretary at the Ministry of New and Renewable Energy (MNRE), said that installations providing an additional 6 to 8 GW may be realized within the coming year. According to Mr. Kapoor, the long-term objective is to promote both PV power plants and to achieve a share of 30 to 40% with roof-mounted PV installations. The products shown at the exhibition made one thing very clear: the technical solutions for such progressive expansion are available. Encompassing photovoltaics, PV production technologies, energy storage systems, and solar thermal technologies, the event again showcased the solar industry's entire value-added chain.
Intersolar AWARD for Solar Projects in India
The Intersolar AWARD for the category Solar Projects in India was presented for the third time at Intersolar India 2014. The coveted innovation prize in the Industrial and Commerical Use category went to Bosch Ltd. for its Maruti Suzuki Lagoon PV power plant project, which has an output of one megawatt (MW) and serves both to generate electricity and enable the collection and use of rainwater. Trojan Battery won in the Off-grid Solutions category for their Trojan Smart CarbonTM Batteries, a plug-and-play solution consisting of a PV installation and a battery supplying energy to more than 150,000 telecom towers in India. The Intersolar AWARD in the Utility-Scale Projects category was presented to Tata Power Solar Systems Ltd. for a 50 MW PV power plant in Madhya Pradesh, which supplies some 90,000 households with electricity through a public-private partnership (PPP).
Further information is available at www.intersolar.in
About Intersolar
With events spanning four continents, Intersolar is the world's leading exhibition series for the solar industry and its partners. It unites people and companies from around the world with the aim of increasing the share of solar power in our energy supply.
Intersolar India is the country's largest exhibition and conference for the solar industry. It takes place annually at the Bombay Exhibition Centre (BEC) in Mumbai.
The event's exhibition and conference both focus on the areas of photovoltaics, PV production technologies, energy storage systems and solar thermal technologies. Since being founded, Intersolar has become the most important industry platform for manufacturers, suppliers, distributors, service providers, and partners in the global solar industry.
In 2014, 160 international exhibitors and around 9,000 visitors attended Intersolar India. Some 100 speakers and about 500 attendees discussed current industry topics and shed light on the conditions surrounding technological, market and political developments at the accompanying conference.
With over 20 years of experience, Intersolar has the unique ability to bring together members of the solar industry from across the world's most influential markets. Intersolar exhibitions and conferences are held in Munich, San Francisco, Mumbai, Beijing and São Paulo. These global events are complemented by the Intersolar Summits, which take place in emerging and growing markets worldwide.
Featured Product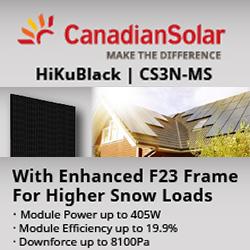 Aesthetic appearance for residential systems: With black backsheet & black frame, Power range 380 ~ 405 W, Low power loss in cell connection. Enhanced reliability: · Low temperature coefficient (Pmax): -0.34 % / °C, LID LeTID less than 2.0%, Lower hot spot temperature, Better shading tolerance.