New FLEXware Integrated Combiner Solution helps Canadian installers, homeowners meet safety requirements while staying flexible
ARLINGTON, Wash.--OutBack Power Technologies, Inc., a designer and manufacturer of advanced power electronics for renewable energy, backup power and mobile applications, today introduced its FLEXware Integrated Combiner Solution (ICS) to the Canadian market. Paired with OutBack Power's new power conversion systems, an expanded line of batteries and enclosures and new OPTICS RE control functionality, the ICS completes the only CSA C22.2 end-to-end battery-based solution from a single brand, providing installers and designers with a seamless experience and the ability to easily control and adjust system operations — an industry first. OutBack Power will showcase these products at Solar Canada running December 8 through 9 in Toronto.

As building regulations and energy policies in Canada continue to fluctuate, and the demand for battery-based energy storage rapidly increases, system designers and installers require flexible, safe and compliant solutions that enable them to maximize returns on renewable energy investments. OutBack Power's easy-to-install FLEXware ICS was designed to satisfy Canadian compliance requirements, keep systems safe and meet the needs of future energy scenarios through higher voltage ratings.
"In Ontario, residents are faced with confusing energy policies and fluctuating grid electricity rates, encouraging many to consider renewable alternatives to offset their hydro use," said Brian Nash, owner of Haliburton Solar and Wind, who relies on OutBack Power's GridZero technology to help his customers make the most of renewable energy investments. "With OutBack's GridZero technology, customers get the flexibility they need to enjoy both off-grid independence and grid-tied cost savings. It's a win-win."
The new FLEXware ICS Plus offers arc-fault protection, advanced ground-fault protection and rapid shutdown in a single system that is compliant with CSA C22.2, applicable to all PV systems and ideal for critical or municipal buildings where safety and operation continuity are paramount, such as schools, hospitals or government offices. ICS' advanced safety features, which assure firefighters and other first responders to emergency situations at buildings that the solar arrays are safely shut down, represent industry-leading innovation in an area becoming more standardized throughout the industry.
Additionally, the ICS is pre-configured for simple installation, and can be mounted on the roof or under solar panels with a choice of vertical or horizontal placement. Higher voltage ratings, up to 1kVdc, allow for future system topologies, making the FLEXware ICS Future-Perfect — a staple of OutBack Power technology.
"As more Canadians embrace the benefits of renewable energy, OutBack Power's rooftop-to-battery solution gives them the flexibility they need to meet market demands today and far into the future," said Harvey Wilkinson, general manager, OutBack Power. "With our new Integrated Combiner Solution, installers can enjoy OutBack's signature reliability, durability and ease-of-use from end-to-end, all while remaining compliant, saving costs, time and energy, and keeping customers satisfied."
The FLEXware ICS is slated for release in Q2 2015. Solar Canada attendees interested in learning more about OutBack Power and the FLEXware ICS may stop by booth 416 for more information.
About OutBack Power Technologies
OutBack Power Technologies, a member of The Alpha Group, is the leading designer and manufacturer of advanced power electronics for renewable energy, back-up power and mobile applications. Founded in 2001 to pioneer power conversion technologies considered de facto standards today, and with an emphasis on product performance and reliability, OutBack has established itself as the product of choice in harsh environmental conditions and applications where product reliability is paramount. Whether the application is village microgrids in Africa, rural electrification projects in Latin America, remote off-grid cabins in Alaska, or a suburban home in Southern California, OutBack Power Technologies has set the bar for delivering advanced power conversion electronics. For more information, please visit www.outbackpower.com.
Featured Product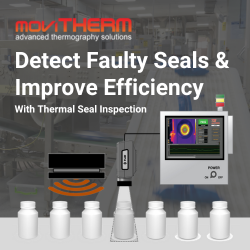 MoviTHERM's Thermal Seal Inspection (TSI) solution provides precise and reliable detection of defects in a variety of packaging types, including pouches, bags, blister packs, bottle caps, and more. By detecting defects in your packages, the TSI solution helps increase efficiency in your production line and ensures top-quality packaging is delivered to your customers every time. With state-of-the-art technology and an experienced team, MoviTHERM is dedicated to delivering accurate inspection solutions and peace of mind to its clients. Contact MoviTHERM today to learn more about their thermal seal inspection solution.