Regulators, DG providers, and utilities are struggling over the future of DG business models, report concludes
BOULDER, Colo.--A recent report from Navigant Research analyzes the global market for distributed generation (DG) technologies, including global market forecasts for installed capacity, revenue, and pricing through 2023.

Driven by cost reductions, government incentives, and rising interest in replacing fossil-fuel sources of energy, the global market for distributed electricity generation is expanding at a rapid pace. One of the most important trends in the energy industry today, the dramatic growth of DG is threatening utility business models and giving customers new levels of control over the energy they consume. Click to tweet: According to a recent report from Navigant Research, the worldwide installed capacity of distributed generation is expected to more than double in the next 9 years, growing from 87,300 megawatts annually in 2014 to more than 165,000 megawatts in 2023.
"Utilities in Western Europe are losing hundreds of billions of dollars in market capitalization as DG reaches higher levels of penetration in leading countries such as Germany, the United Kingdom, and Italy," says Dexter Gauntlett, senior research analyst with Navigant Research. "The prospect of similar losses by utilities in the United States is prompting a struggle among utilities, the DG industry, and regulators over the future of DG models."
Modular distributed assets can adapt to a variety of different applications, each of which comes with different technical requirements, according to the report. Increasingly, DG systems must be able to communicate with not only the utility grid, but also other DG assets – particularly when deployed within microgrids.
The report, "Global Distributed Generation Deployment Forecast," analyzes the global market for DG technologies, including solar PV (<1 MW), small wind turbines (<500 kW), stationary fuel cells, natural gas generator sets (<6 MW), and diesel generator sets (<6 MW). Installed capacity, revenue, and pricing forecasts are included for the time period of 2014-2023 for 54 countries. The report also includes region- and country-specific market analyses, qualitative analysis of installed capacity by customer segment and/or power class for leading markets, and an overview of modeling assumptions. An Executive Summary of the report is available for free download on the Navigant Research website.
About Navigant Research
Navigant Research, the dedicated research arm of Navigant, provides market research and benchmarking services for rapidly changing and often highly regulated industries. In the energy sector, Navigant Research focuses on in-depth analysis and reporting about global clean technology markets. The team's research methodology combines supply-side industry analysis, end-user primary research and demand assessment, and deep examination of technology trends to provide a comprehensive view of the Smart Energy, Smart Utilities, Smart Transportation, and Smart Buildings sectors. Additional information about Navigant Research can be found at www.navigantresearch.com.
About Navigant
Navigant is a specialized, global expert services firm dedicated to assisting clients in creating and protecting value in the face of critical business risks and opportunities. Through senior level engagement with clients, Navigant professionals provide services that extend from expert and advisory work through implementation and outsourcing. The firm combines deep technical expertise in Disputes and Investigations, Economics, Financial Advisory and Management Consulting, with business pragmatism to address clients' needs in highly regulated industries including Construction, Energy, Financial Services and Healthcare. More information about Navigant can be found at navigant.com.
Featured Product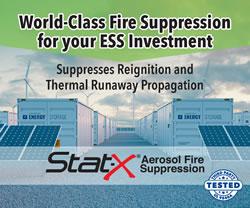 Stat-X® condensed aerosol fire suppression is a solution for energy storage systems (ESS) and battery energy storage systems (BESS) applications. Our Stat-X condensed aerosol fire extinguishing product was tested for efficacy in suppressing li-ion battery fires. It was found that the product successfully extinguished single and double cell battery fires. This testing was conducted in parallel with a large battery fire testing program on behalf of a large energy storage company.