Companies sign Memorandum of Understanding for strategic cooperation
BAODING, China and SINGAPORE, Dec. 8, 2014 -- Yingli Green Energy Holding Company Limited (NYSE: YGE) ("Yingli Green Energy" or the "Company"), the world's largest vertically integrated solar panel manufacturer, known as "Yingli Solar," today announced that its wholly-owned subsidiary, Yingli Green Energy Singapore Company Pte. Limited ("Yingli Singapore"), intends to collaborate with Kasikornbank Public Plc. ("KBank"), Huawei Technologies Co., Ltd ("Huawei") and Solventia Solar Energy Co., Ltd. ("Solventia Solar Energy") to deploy solar power in Thailand, a promising renewable energy market. According to their recently signed Memorandum of Understanding, the companies plan to jointly provide turnkey solar power solutions for both power plants and distributed generation projects throughout the country.

"Yingli's collaboration with KBank, Huawei and Solventia Solar Energy is designed to accelerate solar power's expansion in Thailand by simplifying PV deployment for power suppliers and consumers. As industry leaders, our companies' cooperation will help establish Thailand as an innovative regional leader in the transition to a clean, low-carbon future," said Ms. Angie Koh, Managing Director of Yingli Singapore.
"Through collaboration our companies will be able to execute each critical aspect of PV deployment, from manufacturing to construction," commented Mr. Jesus Vazquez, Chief Executive Officer of Solventia Solar. "Our aim is to provide the best quality of service in solar PV to our clients and to local communities, transforming Thailand into a self-sufficient and more sustainable society."
Due to Thailand's strong year-round solar irradiation and rising demand for electricity, the Thai government has established a 3 GW target for total solar power capacity by 2021. The country plans to meet at least 20% of its energy demand with renewable resources by 2022.
About Yingli Green Energy
Yingli Green Energy Holding Company Limited (NYSE: YGE), known as "Yingli Solar," is the world's largest vertically integrated solar panel supplier in terms of shipment in 2013 based on public information. Yingli Green Energy's manufacturing covers the photovoltaic value chain from ingot casting and wafering through solar cell production and panel assembly. Headquartered in Baoding, China, Yingli Green Energy has more than 30 regional subsidiaries and branch offices and has distributed more than 10 GW solar panels to customers worldwide. For more information please visit www.yinglisolar.com and join the conversation on Facebook, Twitter and Weibo.
About Solventia Solar Energy Co., Ltd.
Solventia is an energy company (ESCO: Energy Service Company), that provides solutions to projects of photovoltaic solar energy, projects in EPC (Engineering, Procurement and Construction) as well as the complete execution of some of the installations necessary for its intended operations.
About Huawei Solar Energy Co., Ltd.
Huawei is a leading global solution provider of high quality solar inverters, providing stable, cost-effective energy while responding to increasing concerns for the environment is forcing power utilities to tap into new, renewable sources like hydro, wind and solar, and also to seek more efficiency in power generation, distribution, and consumption. Specialized Information and Communications Technology (ICT) is playing a central role in transforming the industry – enabling providers to control and optimize power through intelligent automation. Drawing on its broad range of ICT products and services, Huawei delivers complete solutions for integrating, computerizing, and automating the electric utility grid.
About Kasikornbank Public Plc.
Kasikornbank is a commercial bank with over 60 years of experience, and has been regarded as Thailand's premier banking institution that thinks first and acts first. Its latest - and boldest - innovation is the establishment of KASIKORNBANKGROUP, Thailand's first and only financial conglomerate operating as comprehensive financial service provider under one singular brand of quality service - K Excellence. Significantly, every member of the group is a leader in its field of business by its own right.
Featured Product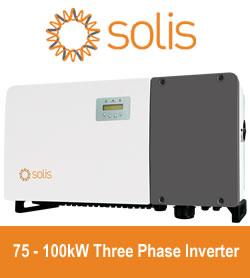 Solis75kW - 100kW series high-power string inverters are widely used in industrial and commercial rooftops. Solis's new three-phase string inverter is the first choice for industrial and commercial photovoltaics. 75-100kW three phase series string inverter have Maximum 28 strings input, support "Y" type connection in DC side. Maximum string input current 13A, support bifacial modules access.Supports anti-PID function to improve system efficiency.