Prize honors innovations in energy storage technology
Munich, December 11, 2014 – Without intelligent storage systems, there will be no energy transition. Battery and energy storage technology is the key to exploiting fluctuating, renewable energy. The ees AWARD is presented to the industry's most impressive innovations at the electrical energy storage (ees) exhibition. Companies are invited to submit their applications from February 2, 2015.

Storage systems hold the key to the success of the energy transition. Only thanks to efficient storage systems is it possible to decouple the generation of clean power from consumption, thus easing the burden on the grids. This key role is turning storage technology into a growth market. According to market research company Navigant Research, the capacity of new storage systems installed worldwide in the next decade will total 21.8 gigawatts (GW), including large-scale systems for commercial use as well as battery storage systems for private solar installations. If these forecasts are to go by, 1,300 GW of wind turbine and PV capacity will be installed during this time. Storage systems are thus expected to play an important role in organizing the power grids. In fact, storage systems for private photovoltaics installations already receive government funding in countries like Germany and Japan – a sign that the industry is gaining momentum. The ees AWARD will honor the industry's innovators at Intersolar Europe, which takes place together with electrical energy storage (ees). For the second time, tribute will be paid to outstanding products and solutions in the fields of materials, production, systems technology, applications, second-use concepts and recycling. The AWARD is open to exhibitors of both exhibitions and companies are invited to submit their applications between February 2 and March 27, 2015.
From single battery cells to massive storage systems
"Prize winners can go home safe in the knowledge that they have helped to drive forward an up-and-coming market that is experiencing technological developments at an incredible rate," says Markus Elsässer, CEO of Solar Promotion GmbH. Industry solutions come in a diverse range of systems and sizes, starting from battery storage systems for private use. The record for largest commercial system is currently held by Chinese company BYD, which added a storage system with a capacity of 40 megawatt hours (MWh) to the grid in fall 2014. For its 32 MWh storage system, which was recently taken into operation, Southern California Edison selected the same battery cells that General Motors uses for its electric car Volt. Last but not least, German research project "e-SolCar" shows how electric vehicle batteries are being used as mobile energy storage systems and could help to increase grid stability, for example.
Swarms of clever solutions
Other approaches use the power of swarms. To ease the burden on the grid, thousands of batteries could be integrated into a virtual power plant, controlled by IT solutions that are already available on the market. This is leading to the emergence of new business models. For example, battery owners could be reimbursed for any grid usage fees avoided thanks to them or sell any excess power to spot markets. Furthermore, by combining battery storage systems, swarms of decentralized storage units also provide a source of balancing power. The list of technologies that the industry has to offer goes on – battery systems could also be combined in a variety of ways in local storage "farms", which serve several residential homes or businesses. This would increase self-sufficiency and make on-site consumption more lucrative. Looking to introduce this model on a large scale, an international consortium is in the process of developing solutions that would allow energy suppliers to provide energy to entire neighborhoods using combinations of battery storage systems and photovoltaics.
Prize for an immensely varied industry
The industry's widely varied spectrum can also be seen at the ees exhibition, which has been presenting the ees AWARD since 2014. In 2015, the award is open to exhibitors at Intersolar Europe 2015, ees 2015, Intersolar North America 2015, Intersolar South America 2015, Intersolar China 2015, Intersolar India 2015 and Intersolar India 2014. Significant refinements of products and services previously presented at the exhibition are also accepted. To be eligible for participation, products and solutions must already be in use in industry or at least have undergone testing, represent technological or financial innovations, have the potential to drive forward industry or society and help to reduce costs. The prize will be awarded at Intersolar Europe, which will take place from June 10–12, 2015. The exhibition showcases the entire value-added chain of energy and storage technology, from components through storage to specific examples of use. Together with Intersolar Europe, the leading exhibition for the solar industry, the exhibition for the rapidly growing energy storage market forms the world's largest industry platform for the combination of storage systems and photovoltaics.
Companies wishing to apply for the ees AWARD or Intersolar AWARD can find more information on the website at www.intersolarglobal.com/award. All applications must be submitted between February 2 and March 27, 2015.
electrical energy storage (ees) 2015 takes place alongside Intersolar Europe at Messe München from June 10–12.
Further information on electrical energy storage (ees) can be found at www.ees-europe.com.
About electrical energy storage (ees)
electrical energy storage (ees) is the international exhibition for batteries, energy storage systems and innovative production. It made its debut in 2014, taking place in conjunction with Intersolar Europe, the world's leading exhibition for the solar industry and its partners.
In 2014, around 250 manufacturers, suppliers, distributors and research institutes showcased products and services from the entire value-added chain of innovative battery and energy storage technologies at ees and Intersolar Europe. Together with Intersolar Europe, ees forms the world's largest industry platform for the combination of storage systems and photovoltaics. The two exhibitions played host to around 1,100 exhibitors in 2014.
An accompanying, three-day specialist conference consolidated the topics at the electrical energy storage (ees) exhibition and Intersolar Europe 2014. Around 200 speakers and around 1,100 conference attendees discussed current industry topics and shed light on the background of technological, market and political developments. At the conference, a total of seven ees sessions provided an overview of the latest energy storage system developments.
For more information on Intersolar Europe, please visit: www.ees-europe.com
Featured Product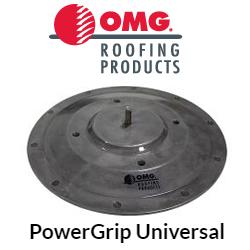 Eliminate Solar Rack Ballast and Reduce Rooftop Material Handling. PowerGripâ"¢ Universal (PGU) is a commercial roof mount system designed to secure solar racks and other equipment to any type of commercial roofing system. PGU provides a secure connection directly to the roof deck or structural members and is designed to reduce or eliminate ballast in solar racking systems, so there's less weight on the roof and less material handling. Made of heavy-duty cast aluminum, PGU units include a base ring which is secured through the roofing cover and into the structural roof deck, and a waterproof top plate.