Dependable KYOCERA solar modules provide long-term electricity cost stability
Scottsdale, AZ – December 15, 2014 – Kyocera Solar Inc. and Dynamic Solar Solutions, a company dedicated to installing turnkey photovoltaic systems for residential, commercial and industrial customers since 2008, today announced a plan to provide industry-leading solar panels to Puerto Rican businesses, harnessing renewable energy as a solution to rising energy prices. In Puerto Rico, businesses and consumers are struggling under electricity rates that are frequently double those of the mainland United States. Conventional energy resources such as natural gas and coal are not available on the island, which has led utilities there to generate electrical power using costly imported fuels.

While the price of grid electricity will likely continue to rise, a Kyocera solar photovoltaic (PV) system provides greater consistency in energy costs. Ensuring a stable production of kilowatt hours is crucial for businesses investing in solar power to provide a return on their investment and reduce total costs.
"Our commercial customers are looking for ways to save on electric costs so they can stabilize their business expenses," said Juan Carlos Díaz-Galarza, vice president of operations for Dynamic Solar Solutions (DSS), "We offer Kyocera solar modules exclusively because of their proven dependability and outstanding performance, and our goal is to give the very best to our customers."
Kyocera is the only solar module manufacturer to have earned the highest rating across all six test categories in GTM Research's July 2014 PV Module Reliability Scorecard.
In October 2014, DSS installed an 892-kilowatt (kW) photovoltaic system on the rooftop of Droguería Betances, Inc., a distribution warehouse in Caguas, Puerto Rico, which supplies healthcare products and equipment to more than 900 pharmacies on the island. By taking advantage of government incentives designed to increase the island's solar power capacity, Betances saved 40 percent off the total system cost. The solar installation, which is comprised of 3,570 Kyocera 250-watt modules, will produce 1,245,292 kilowatt hours (kWh) annually – offsetting approximately 93 percent of the warehouse's electric power needs, and stabilizing the business's cost of electricity.
"Kyocera solar modules have a track record for providing long-term electricity cost stability, supporting our commitment to help businesses enhance their competitiveness and improve their bottom line," said Steve Hill, president of Kyocera Solar Inc. "By installing Kyocera solar modules, Dynamic Solar Solutions has helped Droguería Betances, Inc. lower its cost of doing business — a strong advantage in today's economy."
To learn more about Kyocera Solar solutions for both residential and commercial projects in the U.S. and Latin America, please contact infosolar@kyocera.com or
+1-800-223-9580.
Featured Product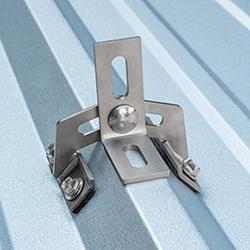 Error-Proof Compression: The QB2 doesn't leave any room for user error when it comes to Microflashing® compression. Once the Dual Drive Shoulder Screw is secured, the Microflashing® is compressed. Only 3 Components: The QB2 is comprised of Microflashing®, an L-foot and a Dual Drive Shoulder Screw. No more Nuts needed to tighten and secure the L-foot! Not only does this simplify the installation process, it also cuts down the installation time.