200 acre brownfield site with all the infrastructure, water, power inter-connector, natural gas and zoning in place.
Set on 200 acres, Avoca River Park, on the banks of the Avoca River beside Arklow town and just 60 minutes from Dublin Airport, is set to become a major new centre for these emerging technologies. Co-location of generation and consumption offers significant savings in respect of both cost and carbon footprint. Hundreds of new jobs will provide a huge economic boost to the area during construction and operational stages.

The site is being offered for sale with the required infrastructure and zoning already in place making it a ready-to- go opportunity.
Power: 100Mw 110Kv (site owned substation) supply with Onshore & Offshore wind sources. Readymade connection on site to National Grid.
Water: 100 Million litres per day with Avoca River existing Extract/Return permits etc.
Gas: Huge industrial supply pipeline. Existing planning for a 285Mw gas fired Power Station.
Biomass: Located in the heart of Ireland's forestry production zone, a huge supply of biomass raw material is available locally.
Sea Access: Large private duct and way leave to Irish Sea. Suit Ireland UK/Interconnector.
Fibre: ESB Telecoms National Fibre Optic Network and BT/Irish Rail fibre on site.
Roads: New multilane highway right to Dublin Airport in less than 60 minutes.
Rail: Main Dublin/Wexford rail line passes through the property with a disused sidings.
Speaking at the launch of the site, Peter Faulkner, Director of Avoca River Park Ltd said "This established brownfield site has the most unique installed infrastructure of any site in Europe. It has it all". "It offers huge savings over comparable spaces in greenfield locations, with the added benefit of a very pro-business local authority" he added. The company expects the ultimate buyers to be overseas entities and will work closely with IDA Ireland to complement their constant work on attracting this kind of new investment into Ireland.
See more at www.avocariverpark.com
Ends
For further information or media enquiries, please contact
Peter Faulkner Avoca River Park Ltd. Dalkey, Co Dublin
Tel: +353 (0)1 903 4585 or +353 (0)86 255 3201 E: peter@faulknerafm.com
Twitter: @AvocaRiverPark
Featured Product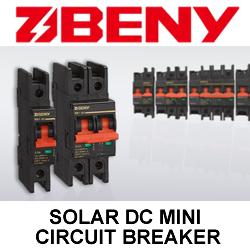 The BB1-63 modular miniature circuit-breakers can be used in solar DC circuits up to 1200 VDC (4-poles execution). Application in solar DC circuits, battery energy storage systems and UPS. Arc flash barrier design keeps solar equipment more safe and reliable. For DC circuit over-current protection.