Largest Power Exhibition Clusters in Asia
Largest Power Exhibition Clusters in Asia

Focus on Intelligent Manufacturing, Innovation Creates Future
50,000 1,000+ 30,000+
square meters exhibitors visitors
15th China International Electric Power & Electric Engineering and Smart Grid Exhibition
Date: May 13-15, 2015 Venue: Shanghai New International Expo Center
15th Anniversary Offers Unlimited Opportunities
China EPower 2014--14th China International Electric Power & Electric Engineering Technology Exhibition successfully came to an end on April 10, 2014. With 14 years' development and accumulation, China EPower has become a leading exhibition in power industry, covering from power generation, transformation, transmission and distribution to the terminal equipments and technologies, which provides end users with a platform for purchase, study and communication. China EPower 2014, with enhanced scale and quality, won good comments from most of participants and it has grown to be one of largest and most influential shows in Asia.
According to the 12th five-year plan, China's power industry will reach to 5.3 trillion dollars, with 1.47 billion kW installed capacity and 6.3 trillion kWh national power consumption.The leapfrog development of strong power grid construction,structure optimization and equipment innovation will bring unlimited room for power industry development. The year of 2015 is the last year of the 12th five-year plan, in which power engineering and smart grid construction will enter a spurting stage, leading to a soaring demand for high precision and advanced technologies and products in power industry.
To meet the market demand, China EPower will mark its 15th edition in Shanghai New International Expo Center on May 14-15, 2015, with unprecedented scale of 1000 exhibitors showcasing advanced technologies and products at 50,000 sqm space.More than 30000 target visitors will come to the show. The comprehensive marketing strategy and subdivised exhibiting zones will help to create a complete industry chain for all participants. China EPower 2015 will definitely be an ideal platform for business networking and idea exchange, promoting the power industry to develop in a healthy and sustainable way.
Features
 The best way to enter industry chain: To discuss business opportunities with professionals,end-users and service providers
 Huge Scale+Subdivision+Specific Zones: Wind Power, Generation, Distributed Energy, Electric Engineering & Smart Grid, Electric Safety, sharing resources in relative industry, easy access to suppliers
 New Displaying Zone Set for Electric Safety
 Professional Visitor Invitation Strategy: phone calls, emails, faxes
 Enhanced Cooperation with International Organizations and Agency: Germany, USA, Italy, Turkey, Korea, UK, France, Russia., etc
 Various Concurrent Activities: Forwarding-looking Forums, Workshops, seizing strategic business opportunities and the latest development tendency
Schedule
Registration Venue: Shanghai New International Expo Center(No.2345, Longyang Road)
Show Date: May 13-15, 2015
Opening Hours: 9:00-16:30, May 13-15, 2015
Move-out Time: 14:00-17:30, May 15, 2015
Highlights in China EPower 2014
One-stop to Trade, Exchange Knowledge and Network
Big Names High-Profile Appearance 600 Exhibitors' Industry Gathering
China EPower 2014 was successfully held from Apr 8th to 10th , 2014 at Shanghai New International Expo Center, attracting 262 exhibitors from more than 20 countries and regions,renowned brands such as Siemens,Toshiba, MITSUBISHI, Shanghai Electric, Cummins,AKSA, Dongfang Electric,CRS,NARI,NAJIE, ChangFeng Cable,etc., all joined the show as exhibitors. The total exhibiting space reached to 42,000 sqm.
Trade Visitors Brings Vast Business Opportunities
As a pioneer and leader in China's Business Exhibitions,we provide expo with abundant solid purchasers .22,000 visitors and 20 foreign purchase groups were received during the last three-day-expo.
Visiting Group
IPPF,TEMCA,SEAS, KEEA,PIPPA, APTEK,US Commercial Service of Consulate General of the United States in Shanghai,Shanghai Jiao Tong University, Shanghai Dianji University, Shanghai University of Electric Power ,Changzhou Transmission & Distribution Industry Association,etc.,
Procurement Organizations
ECREEE,Osaka Federation of Industry and Commerce,Vietnam electric industry association, India electric power equipment purchasing group, ZhejiangPower Engineering Construction and Maintenance Association,Shanghai unicipal electric power company, Jiangxi electric power company and Sichuan electric power company, Changshu Housing &construction Bureau, China National offshore oil Corporation, Urban Development, Shanghai Railway materials Co., Ltd, Baosteel, SINOPEC Shanghai gaoqiao company,etc.
Featured Forums
High-level forums and seminars themed on "World Wind Energy", "Smart Grid Industry Development", "Distributed Energy " and "Energy Storage Applications"were well attended by renowned experts , elites, scholars from home and abroad. The all-round interpretation of new industrial policies, development and new technologies on forums helped learn the latest industry news, insight and grasp the future developing strategies, thus promoting power industry.
Media Supporting
In addition to local key media partners such as ASIANPOWER, POWER, China Energy News,,Xinhua NET, Beijixing, China5e, Control Engineering Asia, CPNN, Morning Post, 21 cbh,etc. Over 200 print and web media supported the show.
It was our pleasure to take part in Smart Grid 2014. The show was featured with its professionalism,large scale, the designing of displaying zones and wonderful concurrent forums. Held in conjunction with other related power events, the show attracted more target visitors, which brought us more chances to communicate with our customers. Additionally, the participation of overseas enterprises, visitors and buyers helped us learn more information about overseas power market and it is useful for us to expand our oversea market. I hope the show next year will be functioned as a bridge more fully and broadly.
覧覧 Mr Gu Jin, Director of Energy Dept., Toshiba (China) co., LTD
The rich and various contents and forms of co-located activities, giving the exhibition added luster. Organizing committee's rich experience in event planning and management, Exhibitors could freely accessed to attentive and professional services. And also a lot of convenience. We would like to express our sincere gratitude to event organizers and extend our congratulations to China EPower 2014's great success.
覧覧Mr Ma Xueneng, Secretary General, Shanghai Electrical Apparatus Manufactures Trade Association
It was a very good exhibiting experience. As a professional distributed energy exhibition, it provided us with valuable opportunities for communication and promotion.The highlighted concurrent forums hosted by industry leaders was forward-looking in content.
覧覧Mr Jiang Wei, Shanghai Electric Group
Visitor profile:
Industrial Users
Electric power, petroleum, chemical industry, metallurgy, iron and steel, cement, coal, textiles, transportation, electronics, telecommunication, environmental protection, transportation, machinery,equipment service provider,traders and so on.
Construction Industry Users
Real estate developers, construction contractors,decoration companies, architects, designers, engineers, importers, wholesalers, distributors, manufacturers, retailers,end users of buildings, property management agencies, industry end users(such as hospitals, schools, offices, hotels, shopping malls, etc).
Government service
Industry-related government departments, utilities, power companies, utility companies, planners, municipal engineering, design and research institutions, authorities, associations, societies, media, etc.
Exhibit Profile
1. Power generation
1.1. Thermal/Hydroelectric/Nuclear power equipment
1.2. Plant equipment and accessories
1.3. Industrial power
2. Power transmission and transformation equipment
2.1Switching plant
2.2 High and low voltage Switchgears
2.3 Transformer & accessories
2.4 Digital substation
2.5 Conductors and cables and wires
2.6 Arrester and insulator
2.7 Tower
2.8Power quality
2.9 Harmonic Suppression/Reactive power compensation
2.10 Power electronics
2.11 Instrument
2.12 Electric power fitting
2.13 Busbar
3、SmartGrid dispatching /control/security check
3.1 SCADA/EMS/DMS
3.2 SmartGrid dispatching system
3.3 Generation automation
3.4 SmartGrid automation equipment
3.5 Integrated substation automation
3.6 Relay protection device
3.7 LSDS Large Screen Display System
3.8 Power system simulation equipment
3.9 Electrical inspection robot
3.10 Information management automation
3.11 Fault diagnosis/ self-healing
4、Communication and Information Systems
4.1 The technology of Internet of things
4.2 Industrial Ethernet
4.3 Optical fiber
4.4 Software and hardware
4.5 Power line carrier
4.6 Wireless communication
4.7 Information management system
4.8 Monitoring equipment
5、 Smart metering and management
5.1 Smart meter&chip
5.2 Data acquisition&management
5.3 Components
6、Electrical accessories
6.1 Cabinet
6.2 Low voltage electrical apparatus
6.3 Cable & Wire、Cable splice
6.4 Electro-technical wire
6.5 Wire connecting terminal
6.6 Insulating material
6.7 Electrical alloy
6.8 Special equipment for electricians
6.9 Wiring accessories
7、Construction equipment and protection
7.1 Construction vehicle
7.2 Maintenance tools
7.3 Overhead working equipment
7.4 Protection appliance
Concurrent Activities
With the support of well-known power institute,associations and media,a series of activities,such as forums,technical workshops and new products promotions will be held during the show.
Contact us for more information
Contact:Zhangjun
Tel:+86-21-23521188
Fax:+86-21-23521199
Website:www.china-epower.cn
Email:info@mpzhongmao.com
Featured Product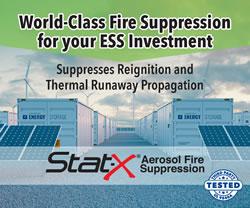 Stat-X® condensed aerosol fire suppression is a solution for energy storage systems (ESS) and battery energy storage systems (BESS) applications. Our Stat-X condensed aerosol fire extinguishing product was tested for efficacy in suppressing li-ion battery fires. It was found that the product successfully extinguished single and double cell battery fires. This testing was conducted in parallel with a large battery fire testing program on behalf of a large energy storage company.