Marks 3rd Consecutive Year as Top Global PV Manufacturer for Environmental and Social Commitments
New Delhi, Dec 23, 2014, Trina Solar Limited (NYSE: TSL) ("Trina Solar" or the "Company"), a global leader in photovoltaic ("PV") modules, solutions, and services, has announced that it has been ranked No.1 for its environmental and social performance in the year 2014 Solar Scorecard, an award system established by the Silicon Valley Toxics Coalition ("SVTC"). Trina Solar received a score of 92 out of a maximum of 100, the highest score among all twenty-nine competing solar companies which included SunPower, First Solar, SolarWorld, REC, Panasonic, Sharp and Yingli.

The 2014 Solar Scorecard ranks global photovoltaic module manufacturers on twelve factors including extended producer responsibility (EPR), emissions transparency, chemical reduction plan, workers' rights, health, safety, supply chains, conflict materials, module toxicity, high value recycling, prison labor, biodiversity, water, energy and GHGs. Judging was based on 12 different criteria of which Trina Solar ranked first among all participants for 11 of the criteria and scored full marks for eight.
SVTC's Solar Scorecard, now in its 5th year, aims to ensure the solar PV sector is safe for workers, communities and the environment. It reveals how companies perform on SVTC's sustainability and social justice benchmarks and is a resource for consumers, institutional purchasers, investors, installers, and anyone wishing to purchase PV modules from responsible product stewards. According to SVTC's published statement, over the next two years, SVTC will develop the Scorecard into an environmental leadership standard endorsed by multiple stakeholder groups.
"We are delighted to be the top ranked company once again in this year's SVTC ranking," said Mr. Jifan Gao, Chairman and CEO of Trina Solar. "Solar energy brings clean energy to mankind yet the PV industry still faces critical environmental challenges particularly as demand grows. Ranking number one for the 3rd consecutive year demonstrates our leadership in consistently reducing the use of toxic chemicals, developing responsible recycling systems and protecting workers throughout the manufacturing supply chain, while at the same time fulfilling our commitment to producing premier solar modules. We remain deeply committed to achieving our environmental and social targets and to shaping a truly clean and green solar industry."
The SVTC 2014 Solar Scorecard is available at http://www.solarscorecard.com/2014/2014-scorecard.php.
About Trina Solar Limited
Trina Solar Limited (NYSE: TSL) is a global leader in photovoltaic modules, solutions and services. Founded in 1997 as a PV system integrator, Trina Solar today drives smart energy together with installers, distributors, utilities and developers worldwide. The company's industry-shaping position is based on innovation excellence, superior product quality, vertically integrated capabilities and environmental stewardship. For more information, please visit www.trinasolar.com.
About SVTC
Silicon Valley Toxics Coalition ("SVTC") is a diverse, non-profit organization engaged in research, advocacy and grassroots organizing to promote human health and environmental justice in response to the rapid growth of the high-tech industry. For more information, please visit www.svtc.org.
Featured Product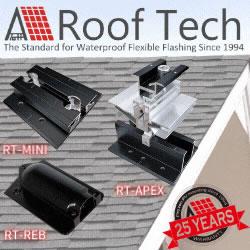 Now Roof Tech brings you the most innovative, watertight mounting systems ever developed for solar photovoltaic systems. Designed and manufactured exclusively for us by Japan's longtime leader in roofing technologies, Roof Tech products are 100% code-compliant and offer fast, simple installation and huge savings on shipping costs due to their compact, rail-less design. Learn more about our full line of versatile PV mounting solutions now available for residential installations. The next generation in rooftop solar mounting solutions."