The Liskeard 1 project, located in New Liskeard, Ontario, uses Canadian Solar's MaxPower CS6X-P modules and is valued at approximately C$60 million ($52 million).
GUELPH, Ontario, Canada, Dec. 29, 2014 -- Canadian Solar Inc. (the "Company", or "Canadian Solar") (NASDAQ: CSIQ), one of the world's largest solar power companies, today announced that its wholly owned subsidiary, Canadian Solar Solutions Inc., has closed the sale of the Liskeard 1 solar power facility, totaling 10 MW AC to TransCanada Corporation (TSX, NYSE: TRP) ("TransCanada"). The Liskeard 1 project, located in New Liskeard, Ontario, uses Canadian Solar's MaxPower CS6X-P modules and is valued at approximately C$60 million ($52 million).

Dr. Shawn Qu, Chairman and Chief Executive Officer of Canadian Solar, commented, "We are happy to complete the sale of another solar power plant to TransCanada, one of North America's most successful energy infrastructure companies. This transaction is a testament to Canadian Solar's expertise in developing, constructing, and energising utility-scale solar power plants, and it demonstrates our leadership position in solar project development on a global scale."
About Canadian Solar Inc.
Founded in 2001 in Ontario, Canada, Canadian Solar is one of the world's largest and foremost solar power companies. As a leading manufacturer of solar photovoltaic modules and provider of solar energy solutions, Canadian Solar has an industry leading and geographically diversified pipeline of utility-scale solar power projects as well as a track record of successful solar deployment boasting over 8 GW of premium quality modules installed in over 70 countries during the past decade. Canadian Solar is committed to providing high-quality solar products and solar energy solutions to customers around the world. For more information about our company, products and projects please visit www.canadiansolar.com.
About TransCanada
With more than 60 years' experience, TransCanada is a leader in the responsible development and reliable operation of North American energy infrastructure including natural gas and liquids pipelines, power generation and gas storage facilities. TransCanada operates a network of natural gas pipelines that extends more than 68,500 kilometres (42,500 miles), tapping into virtually all major gas supply basins in North America. TransCanada is one of the continent's largest providers of gas storage and related services with more than 400 billion cubic feet of storage capacity. A growing independent power producer, TransCanada owns or has interests in over 11,800 megawatts of power generation in Canada and the United States. TransCanada is developing one of North America's largest liquids delivery system. TransCanada's common shares trade on the Toronto and New York stock exchanges under the symbol TRP. For more information, visit www.transcanada.com.
Featured Product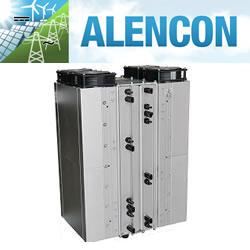 Alencon Systems is the premier manufacturer of high power, high voltage DC:DC optimizers for alternative energy applications including solar, battery energy storage, Microgrids, Fuel Cells and Electric Vehicle charging. Alencon's DC:DC converter offerings include the SPOT, BOSS and CUBE series DC:DC converters. The SPOT is a modular, uni-directional DC:DC solution ideal for solar applications. The BOSS is a modular, bi-directional unit for use with battery energy storage. The CUBE is a monolithic DC:DC converter which is available in both uni-directional and bi-directional modalities. Pictured above, is the Alencon SPOT.