Sunpin Solar Development LLC, a leading solar investment and development firm and Suntuity, a Global Project Developer and EPC are pleased to announce the commercial operation of their 3.97 MWp DC ground mounted distributed generation facility located at 1403 New Boston Road in the Town of Tolland, Massachusetts.
Tolland, Massachusetts December 25, 2014

The Utility Scale Solar System is interconnected to Western Massachusetts Electric Company's (WMECO) distribution system powering the municipalities of Agawam and Longmeadow. All electricity produced by the project (net of 1.75% parasitic load) will be sold (50% to the Town of Longmeadow, 50% to the Town of Agawam) through Solar Net Metering Power Purchase Agreements with both townships. The Town of Longmeadow will serve as the host customer for metering purposes with the Town of Agawam receiving net metering credits allocated from the host. The term of the agreements allow for an initial 20-year term with two optional 5-year extensions. With these agreements, the project qualifies as a Municipal or Government net metering facility.
The Solar Project is part of a Joint Development and Investment effort between Sunpin Solar and Suntuity.
In addition, Suntuity also assisted with the engineering, procurement and construction efforts for the solar project. Both Sunpin Solar and Suntuity are enthusiastic with the completion of the Tolland, MA solar project and remain eager to tackle future opportunities together.
"This facility is a major step forward in the advancement of SunPin's presence and commitment to the Massachusetts solar market," said Mel Jiganti, CEO at SunPin. This along with our office opening in Springfield in the 4th quarter of 2014 creates an even brighter outlook toward our 2015 endeavors here in the state."
About Sunpin Solar LLC.
Established in 2011, SunPin Solar, LLC is a photovoltaic solar investment and development firm that is committed to the successful implementation of commercial and utility scale projects throughout North America. SunPin Solar has assembled a team of experts with the ability to execute a project from early stages of development through commercial operation.
Management of SunPin Solar consists of a small team of experienced and dedicated professionals and consultants working throughout the United States and Asia bringing to the company wide ranging experiences and expertise including manufacturing, procurement, international law, project management and finance.
Headquartered in Chicago Illinois, SunPin Solar expanded its operations In 2014, introducing a new regional office in Springfield Massachusetts. SunPin Solar selected Massachusetts for SunPin's Regional Center, LLC for the commonwealths highly educated workforce, support for the industry and the commonwealths robust renewable portfolio standards and commitment to renewable energy. Opened in August, the new office showcases SunPin Solar's deep commitment to providing the best quality commercial and utility scale solar generation.
About Suntuity
With a strong portfolio and a global solar pipeline, Suntuity continues to develop, finance and deliver solar energy solutions in markets around the world. From roof top projects in South East Asia and Off-grid solutions in Africa, to Utility projects in the Middle East and Tracking solutions in North America, Suntuity is strategically positioned to deliver across the range of technologies that make Solar a viable energy alternative today. Using innovative financing solutions, in-depth technical expertise, global experience and embedded process knowledge, Suntuity delivers Best-in-Class products and solutions that continue to push the boundaries on reduced time and cost to delivery with an ever increasing benchmark in system performance. For additional information, please visit; http://www.suntuity.com
Featured Product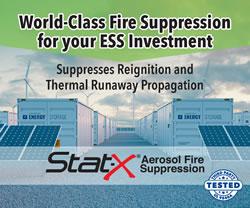 Stat-X® condensed aerosol fire suppression is a solution for energy storage systems (ESS) and battery energy storage systems (BESS) applications. Our Stat-X condensed aerosol fire extinguishing product was tested for efficacy in suppressing li-ion battery fires. It was found that the product successfully extinguished single and double cell battery fires. This testing was conducted in parallel with a large battery fire testing program on behalf of a large energy storage company.