Join industry leaders from AVL, Bosch, Boston Power, Chrysler, Ford, GM, Intertek, LG Chem, Magna Steyr, Navigant Research, Nissan, Sakti3, Valeo, Xalt Energy and more to hear about latest advances and challenges for grid storage and xEV batteries
SAN DIEGO, CA, January 05, 2015 /24-7PressRelease/ -- PlugVolt, a leader in delivering interactive online webinars and routine seminar events to promote global development efforts in advancing battery technologies, will present a two-day Battery Seminar on February 10-11, 2015 in the Metro Detroit area (USA). The seminar will feature numerous technical sessions by subject matter experts from AVL North America, Bosch Battery Systems, Boston Power, Chrysler, Ford, General Motors, Intertek, LG Chem, Magna Steyr Battery Systems, Navigant Research, Nissan North America, Sakti3, Valeo North America, Xalt Energy and others. More information is available at www.plugvolt.com

"We are very excited with all the enthusiasm, participation, and support shown by global automotive OEMs, Tier 1 suppliers and major battery manufacturers in our Seminars," said JC Soman, Program Manager at PlugVolt. "Day 1 of our event carries several unbiased technical sessions presented by Dr. Paul Gifford, a leading electrochemist and battery industry veteran, with complementary industry updates on Day 2 from conglomerates in the automotive and grid storage industries. Our previous Battery Seminar in the Metro Detroit area in 2014 enjoyed participation of over 60 different companies and institutions, and we're anticipating much stronger attendance for this event in February 2015."
"The PlugVolt Battery Seminar offers various stakeholders the opportunity to learn about transformational battery developments in a smaller, more intimate setting than is typical at most conferences," said Dr. Gifford. "Day 1 provides attendees with a foundational understanding of electrochemical principles as related to energy storage, while Day 2 features invited battery developers and end-users presenting in-depth technical up-dates on recent and emerging developments in battery technology."
The February 2015 Battery Seminar will also offer attendees a unique opportunity to participate in an exclusive guided tour of the Intertek battery test facility, which supports environmental simulation, vibration, durability, battery performance and abuse, and electrical safety certification testing. The event includes poster presentations by Cap-XX, Gamry Instruments, HEL Group, NEC Energy Solutions, NextEnergy, PEC North America, Saint-Gobain Plastics, Southwest Research Institute, Thermal Hazard Technology, TUV SUD America, Wildcat Discovery Technologies, and many more.
All registered event attendees will also be automatically enrolled in a raffle drawing, with a chance to win an Apple iPad or a Samsung Galaxy Notepad.
About PlugVolt
PlugVolt is involved in the business of promoting and fostering joint development efforts in advancing battery and alternative energy storage technologies.
PlugVolt offers business consultation services, information services, and custom training (online & onsite) services to the energy storage industry. The routine online webinar sessions and seminar events focus on core technical issues and commercial aspects, as well as market forecasts, for batteries and energy storage systems used in advanced automotive, stationary storage, medical, military, consumer, industrial, smart grid/utility, and alternative energy & power generation segments.
More information available at www.plugvolt.com
Featured Product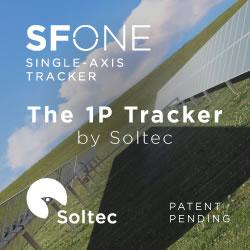 SFOne is the 1P single-axis tracker by Soltec. This tracker combines the mechanical simplicity with the extraordinary expertise of Soltec for more than 18 years. Specially designed for larger 72 an 78 cell modules, this tracker is self-powered thanks to its dedicated module, which results into a lower cost-operational power supply. The SFOne has a 5% less piles than standard competitor, what reduces a 75% the labor time.