Paul Brophy is new President of the GRC
Davis, California, USA - Paul Brophy has been elected by his peers on the GRC Board of Directors to be the next President of the Geothermal Resources Council (GRC). He replaces Louis E. Capuano, Jr., who remains on the Board of Directors as Past President.

Paul is currently President of EGS Inc. based in Santa Rosa, California and has over 45 years worldwide experience in the field of energy and natural resources, of which 35 years has been in the geothermal industry. He has worked on projects in numerous countries such as Australia, Costa Rica, Mexico, Russia, Peru, Chile, Indonesia, Montserrat, and the Philippines.
Paul has previously served as President (2007-2008) and Vice President of the Geothermal Resources Council, and also serves on the Board of Directors of the International Geothermal Association (based in Germany) and chairs its Finance Committee.
In 2011, Paul Brophy was awarded the Joseph W. Aidlin Award, recognizing outstanding contributions to the Geothermal Resources Council and to the development of geothermal resources.
Paul Brophy earned an M.S. in Mining and Exploration from the University of N. Queensland, Australia, a M.S. degree in Geophysics from the University of Leeds, England, and a B.S. (Honors) in Geology from the ChelseaCollege, University of London, England. He is a registered Professional Geologist and Certified Hydrogeologist in the state of California.
##
About the Geothermal Resources Council:
With the experience and dedication of its diverse, international membership bolstering a more than 40-year track record, the Geothermal Resources Council has built a solid reputation as one of the world's preeminent geothermal associations. The GRC serves as a focal point for continuing professional development for its members through its outreach, information transfer and education services.
For more information, please visit www.geothermal.org.
Get your daily geothermal news at Global Geothermal News [geothermalresourcescouncil.blogspot.com]. Become a fan on Facebook [www.facebook.com/GeothermalResourcesCouncil]. Follow GRC on Twitter [twitter.com/GRC2001]. Check out GRC's YouTube Channel [www.youtube.com/GeothermalCouncil]. See geothermal photos on GRC's Flicker page. [www.flickr.com/photos/geothermalresourcescouncil]
###
Featured Product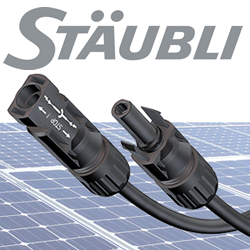 ​Stäubli Electrical Connectors are used on more than 300 GW, over 50% of the PV capacity worldwide. The MC4 family of UL and TUV listed products include connectors, in-line fuses, branch connectors, cable assembly and more.