"Homeowners seeking a home solar solution should be able to rely on a trusted company to provide a full suite of options and high-touch personal service"
LOS ANGELES--American Solar Direct (ASD), a leading residential solar energy provider in California, today announced it is now offering homeowners the opportunity to own their solar systems through zero-down loans with Mosaic.
The American Solar Direct Solar Ownership Program Powered by Mosaic enables American Solar Direct to continue offering customers the simplicity of a one-stop source for all their needs – from installation, long-term maintenance, and world-class customer service – now with the added benefit of owning their system.
"Homeowners seeking a home solar solution should be able to rely on a trusted company to provide a full suite of options and high-touch personal service," said American Solar Direct CEO Brennan Mulcahy. "American Solar Direct has always been that full-service provider, and is very excited to provide customers the option to own an ASD home solar system through our valued partnership with Mosaic."
Mulcahy said that while American Solar Direct continues to offer customers the option to lease their solar system, the company has seen a recent strong interest in direct ownership. The American Solar Direct Solar Ownership Program Powered by Mosaic provides ASD customers an affordable option to own a home solar system with little or no money down.
"We are proud to work with American Solar Direct, one of the nation's leading residential solar providers," says Billy Parish, CEO and Co-Founder of Mosaic. "Our financing portal is extremely fast and makes it easy for more homeowners to get financing to own their solar and reap long-term financial benefits."
Homeowners can easily and quickly complete an online loan application that provides immediate answers. In the vast majority of cases, ASD customers are able to take advantage of a 20-year term, with some of the lowest monthly payments of any home solar loan on the market.
There is also a prepayment option that enables homeowners to pay off their loan early and enjoy years of free energy from the sun.
In addition to the ownership option, American Solar Direct also provides its customers with several other industry-leading features, including a 20-year energy production guarantee and a long-term warranty and maintenance agreement.
"Our focus is on customer service. That positive experience begins with a comprehensive in-home consultation, then handling local permitting needs, assisting with rebates and an installation by our own highly-trained team of highly trained technicians," said Kevin Bauer, President of American Solar Direct. "Having a home solar system can create immediate benefit by lowering energy costs."
About American Solar Direct
American Solar Direct is a full-service solar provider offering California homeowners solar design, permitting, installation, and maintenance services. Through its Solar Made Simple program, American Solar Direct offers homeowners the ability to generate their own clean, renewable power and take control of their electricity prices. American Solar Direct was declared 17th Fastest Growing Private Company in 2014 by INC. magazine, named one of the top five residential solar installers to watch in 2013 by GTM Research and was among the top 5 purely residential solar installers in the U.S., according to a Solar Power World survey. The company recently earned national Company of the Year and Company of the Year honors by the American Business Awards, as well as Angie's List Super Service Award for excellent customer service.
Homeowners interested in solar power may contact ASD at 855-SOLAR55 (or 855-765-2755) to get started with a free, no-obligation in-home analysis. Connect with ASD on Facebook and follow us on Twitter @AmerSolarDirect. www.americansolardirect.com
For more information, contact media@americansolardirect.com.
About Mosaic
Mosaic is a new kind of marketplace that puts the power to prosper from clean energy into your hands. We provide homeowners with independence, funding for solar ownership, and a simple and easy financing experience. Our unique, peer-to-peer clean energy investment platform connects people going solar to investors that are looking to put money to work on the inevitable transition to clean energy.
Mosaic has been named a top ten most innovative energy company by Fast Company in 2013 and 2014 and has received Department of Energy SunShot grant, the Sierra Club's Trailblazer Award and Verizon Wireless' Powerful Answers Award. For more information, visit: www.joinmosaic.com. Solar Mosaic, Inc., CFL Lic. #6054631.
Featured Product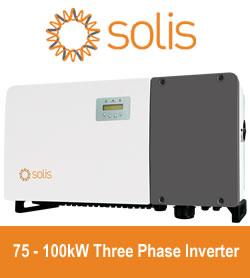 Solis75kW - 100kW series high-power string inverters are widely used in industrial and commercial rooftops. Solis's new three-phase string inverter is the first choice for industrial and commercial photovoltaics. 75-100kW three phase series string inverter have Maximum 28 strings input, support "Y" type connection in DC side. Maximum string input current 13A, support bifacial modules access.Supports anti-PID function to improve system efficiency.