GEM Energy, of the Rudolph Libbe Group, has completed energy upgrades for two downtown Toledo buildings which will turn 100 years old this year – the Toledo School for the Arts and the Toledo Club.
Toledo, Ohio (January 14, 2015) – GEM Energy, of the Rudolph Libbe Group, has completed energy upgrades for two downtown Toledo buildings which will turn 100 years old this year – the Toledo School for the Arts and the Toledo Club.

The Toledo School for the Arts
Completed in just 55 days, the Toledo School for the Arts' infrastructure upgrade improved its century-old building, increased energy efficiency and reduced operating costs.
The design/build project included a second-floor renovation that added new classrooms, set-building and retail shops, ceramics, computer labs and a state-of-the-art recording studio. Outdated 1950s HVAC equipment was replaced throughout the building with five new air handling units, a rooftop unit, two boilers and a chiller. A GEM Energy FlexSet building automation system controls HVAC equipment and displays real-time operating results.
In the new recording studio, where sound quality is paramount, a sound attenuator in the duct work reduces noise from the air handling unit. Special controls on HVAC equipment allow the school to disable the supply/return air system to further protect sound quality in the recording studio.
"We have a century-old building that now operates with 21-century energy efficiency," said Martin Porter, Director of the Toledo School for the Arts. "We take pride in giving our students a state-of-the-art environment for developing their talents. It all contributes to a stronger education for the young people who attend our school."
"We appreciate the Toledo School for the Arts for selecting GEM Energy to implement these energy-saving measures and create new, modern spaces for the students," said Greg Steenrod, Vice President of GEM Energy. "It is a great honor to work for a professional organization that provides education of an exceptional quality for the young people in our community."
The Toledo Club
The Toledo Club's upgrade increases energy efficiency and complements the iconic building's elegant historic features. The project includes:
> New HVAC units to replace 30-year-old units.
> A new 80-ton condensing unit on the roof.
> A FlexSet building automation system that cools and warms rooms on schedule and controls parking lot lighting.
> In the Red Room, dimmable soffit lighting and LED lighting in the antique bar, highlighting the room's rich décor and increasing energy efficiency.
> In the Belvedere Room, a new lighting system that controls the LED fixtures and provides seven settings to match the mood of events ranging from weddings to business meetings.
Fifteen windows were replaced on the building's west side by Centennial Preservation Group in Columbus.
"The Toledo Club is 125 years old, and our 100-year-old building is a community treasure," said Roger Parker, General Manager of the Toledo Club. "These updates will improve our members' comfort, reduce our utility costs and complement the historic features of our building – our artwork, paneling, painted ceilings and parquet floors."
"For the last 10 years, GEM Energy has been proud to provide preventive maintenance services to the Toledo Club, and we are very pleased to perform this essential upgrade for a Toledo landmark and an organization that does so much to serve our community," said Steenrod.
Innovative financing
The energy system improvements for the Toledo Club and the Toledo School for the Arts were financed through the Toledo-Lucas County Port Authority's BetterBuildings Northwest Ohio energy efficiency program. The BetterBuildings program offers fixed-rate financing for up to 15 years on improvements such as lighting, heating and cooling systems, boilers, windows, roofs, insulation, air exchange systems, compressors and building controls.
The BetterBuildings program uses Property Assessed Clean Energy (PACE) financing, a financing tool that provides an innovative way for commercial property owners to pay for energy efficiency upgrades, on-site renewable energy projects and water conservation measures. PACE funding covers 100 percent of a project's costs and is repaid through a biannual building assessment, helping to preserve an organization's capital budget and operating funds.
"The Toledo-Lucas County Port Authority offered this unique solution to help two key downtown Toledo buildings conserve energy consumption and costs," said Kevin Moyer, Executive Director of Energy Efficiency and Alternative Energy Programs for the Toledo-Lucas County Port Authority. "These innovative solutions help businesses and organizations update aging building systems, optimize efficiency and lower rising utility costs."
The Toledo-Lucas County Port Authority has financed over $30 million in energy efficiency projects, approximately $18 million of which were PACE projects.
"With the support of this Toledo-Lucas County Port Authority BetterBuildings PACE program, we have been able to help many businesses in the Toledo Region replace aging facility equipment and significantly reduce energy and operating expenses," Steenrod said.
GEM Energy, of the Rudolph Libbe Group, provides comprehensive energy services and technologies including integration of power generation, advanced heating and cooling systems, procurement, solar development, and FlexSet energy monitoring/building control systems for commercial, industrial, institutional and mission critical facilities.
The Rudolph Libbe Group of companies is among the region's largest contractors and employs 1,000-1,500 construction trades through offices in Lima, Toledo, Cleveland and Walbridge, Ohio; and Plymouth, Michigan.
Featured Product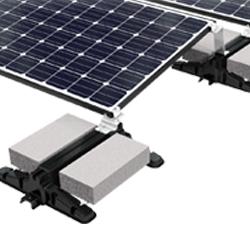 The Power Railâ"¢ Commercial Mounting System is designed with the professional PV solar installer in mind. Both the XD/UD and LD/MD rails feature single tool assembly with the revolutionary patented RADâ"¢ Lock-in-Place bolt for fast and secure module clamping. The high strength marine-grade aluminum rails include an integral wiring channel for securing cables and providing a professional finish.