Reed Exhibitions Japan Ltd. February 25 – 27, 2015
December 25, 2014) – Tokyo, Japan

With a new feed-in-tariff and increasing number of certified ongoing/future projects, Japan's wind energy industry seems to be showing positive growth. To further facilitate the growth of the Japanese wind energy industry, Reed Exhibitions Japan will be holding WIND EXPO – Int'l Wind Energy Expo & Conference http://www.windexpo.jp/en/ for the third time running, to serve as a firm platform for professionals not only in Japan but from professionals from all over Asia and the world to conduct business, network and share ideas.
Expanding business platform for professionals
Since its launch in 2013, the show has been successfully continued to expand. A 10% increase was seen in the show scale at the last edition but is expected to expand even further by 21% in 2015. WIND EXPO has now grown into the largest and only international B-to-B trade show in Japan for wind energy and is recognised as the best business hub for the Japanese wind energy industry. Overall, WIND EXPO 2015 is expected to gather 180 exhibitors and 80,000 professional visitors including visitors from concurrent shows.
As well as the rise in the overall scale of the show, the international profile of WIND EXPO has also been rising and more firms from overseas are getting involved. At the 2015 edition, SIEMENS, ENERCON, SENVION, XZERUS, BERGEY WIND POWER, CHAVA ENERGY, C&F GREEN ENERGY, TYCO ELECTRONICS, HYTORC etc. have already confirmed their participation.
As well as individual exhibits, many countries will be exhibiting as a national pavilion gathering a number of exhibitors showcasing products and technologies unique to their country. For instance, Denmark, Netherlands, USA, Korea etc. have already confirmed their participation as a pavilion, portraying their commitment to join the Japanese market.
From Japan, HITACHI, FUKUSHIMA OFF SHORE WIND CONSORTIUM, ZEPHYR, THE JAPAN STEEL WORKS, ELECTRIC MITSUI OCEAN DEVELOPMENT & ENGINEERING, OLYMPUS, FUJIKURA, JFE MECHANICAL, EOS ENGINEERING AND SERVICE, FUJI DENKO, CHUGOKU MARINE PAINTS, ECO-R etc. will be exhibiting to showcase their latest products, technologies and services.
The exhibition floor of WIND EXPO 2015 will consist of 4 exhibit "zones" splitting exhibits according to their category. One is a general zone and the other 3 are featured zones showcasing exhibits related to Wind Turbine/Wind Power Generation, Offshore Wind and Operation & Maintenance. The Offshore Wind and Operation & Maintenance zones are new zones being launched at WIND EXPO 2015. With the effects of the new stand-alone feed-in-tariff (FIT) for offshore wind and the forecasted increase in the number of wind farms requiring maintenance from the installation boom in 2000, the business for offshore wind and operation and maintenance related to wind energy are expected to expand in Japan. For this reason the two zones will be launched, in order to provide a new platform for wind energy professionals to conduct business related to such categories.
Extensive conference and network building events for professionals
In combination with the exhibition, comprehensive Technical Conference sessions and networking events will be held making WIND EXPO 2015 an ideal venue for professionals to make further connections in the growing Japanese wind energy market and discover the latest trends to support the further growth of business between professionals in Japan, Asia and the World.
Markus Tacke, Chief Executive Officer, Wind Power and Renewables, Siemens and Yasuhiro Matsuyama, Director, New and Renewable Energy Division, Ministry of Economy Trade and Industry (METI) of Japan will be leading the WIND EXPO Keynote Session discussing the strategies and future outlook of the wind energy industry.
The entire conference will be covering a wide range of topics such as market outlook in Japan, global market trends, floating offshore wind turbines, bottom-fixed offshore wind turbines, gear-less wind turbines, earthquake disaster prevention strategies, O&M etc. (Note: The details of the conference sessions may change.)
A reception will be held on the first evening of the show - February 25, 2015, inviting VIP professionals from the wind energy industry. Every year, the reception serves as the best place for exhibitors, visitors, conference speakers and conference attendees to acquaint and network with one another. If one wants to penetrate deeper into the Japanese wind energy market by making new connections, this event will be the perfect platform.
Part of the world's leading smart and renewable energy event
As well as WIND EXPO being a great platform to conduct business, network and obtain the latest trends and insights of the wind energy market, another quality which may benefit the participants is the presence of the concurrent shows.
WIND EXPO is held under the scope of World Smart Energy Week – the world's leading comprehensive trade show specialising in smart and renewable energy shows. Including WIND EXPO, World Smart Energy Week is composed of 9 shows: FC EXPO 2015 - 11th Int'l Hydrogen & Fuel Cell Expo, PV EXPO 2015 - 8th Int'l Photovoltaic Power Generation Expo, PV SYSTEM EXPO - 6th Int'l Photovoltaic Power Generation System Expo, BATTERY JAPAN - 6th Int'l Rechargeable Battery Expo, 6th Processing Technology Expo, 5th INT'L SMART GRID EXPO, 5th ECO HOUSE & ECO BUILDING EXPO and the newly launched ENERGY LIBERALISATION JAPAN 2015 - 1st Energy Market Liberalisation Expo
The 9 shows will be gathering vast range professionals from all over Japan and the world thus will be the ideal venue to make business connections with professionals both beyond and within one's specialty and may open up unexpected windows of opportunity. Overall World Smart Energy Week is expecting 1,580 exhibitors and 80,000 professional visitors during the 3-day show duration.
There will be a reception inviting executive professionals from all 9 energy sectors in order to facilitate further cross-networking between smart and renewable industry professionals.
Save your dates for WIND EXPO 2015
With the line-up of exhibitors, conference sessions and various networking opportunities, WIND EXPO is sure to be the hub for business in the growing Japanese wind energy industry. Save your dates for February 25-27, 2015 to not miss this indispensable opportunity to expand business in Japan.
Show Outline:
Title: WIND EXPO 2015 – 3rd Int'l Wind Energy Expo & Conference
Dates: February 25 – 27, 2015
Time: 10:00 – 18:00 (10:00 – 17:00 on February 27, 2015)
Venue: Tokyo Big Sight (Tokyo International Exhibition Center)
Organised by: Reed Exhibitions Japan Ltd.
Supported by: Japan Wind Power Association (JWPA)
Website: http://www.windexpo.jp/en/
Featured Product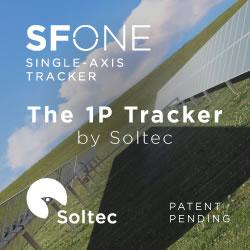 SFOne is the 1P single-axis tracker by Soltec. This tracker combines the mechanical simplicity with the extraordinary expertise of Soltec for more than 18 years. Specially designed for larger 72 an 78 cell modules, this tracker is self-powered thanks to its dedicated module, which results into a lower cost-operational power supply. The SFOne has a 5% less piles than standard competitor, what reduces a 75% the labor time.