Fronius Service Provider Solar Installer Available Training Dates
Portage, IN: The Fronius USA Service Provider program is a valuable tool for solar installers to add to their experience while achieving the necessary certification for in-warranty and field service work on Fronius inverters in the United States. Solar installers are able to experience an in-depth look at various Fronius inverter lines while also securing NABCEP continuing education credits. After participating in the Fronius Service Provider product trainings, installers are also able to buy inverter replacement service components and PC boards at minimal cost, allowing for cost-effective service and limiting customer system downtime. Trainings will be held at the United States headquarters of Fronius USA, 6797 Fronius Drive in Portage, Indiana, to offer exclusive looks at Fronius products. The 2015 dates for Fronius trainings are:

March 9th – 12th Fronius IG Series, Fronius IG Plus Series, Fronius Galvo and Fronius CL
May 18th – 22nd Fronius IG Series, Fronius IG Plus Series, Fronius Galvo, Fronius Symo/Primo and Fronius CL
August 10th – 14th Fronius IG Series, Fronius IG Plus Series, Fronius Galvo, Fronius Symo/Primo and Fronius CL
November 9th – 13th Fronius IG Series, Fronius IG Plus Series, Fronius Galvo, Fronius Symo/Primo and Fronius CL
Register Online Today
Installers are welcome to register for all days of training or for specific products. Course registrants are to arrange their own travel. The cost of the course is $295 per day, which includes the training, training materials, meals, and can be used as a credit towards an FSP starter kit. The FSP starter kit is a collection of the most commonly used inverter repair parts. This kit is highly recommended, as it allows the installer to fully utilize the benefits of the FSP program. Currently, there are 2,300 worldwide, certified Fronius Service Providers. To register online, visit www.fronius-usa.com. For more information on the course, please call 219-734-5666 or email pv-training-usa@fronius.com.
Fronius_Authorized_Service_Provider_300dpi
As a Certified Fronius Service Provider, you can have all necessary parts for field servicing on hand, giving you the upper hand in competition by offering the least amount of service time and most cost savings for your customer. In addition to receiving NABCEP credits for your training, you will also receive the valuable hands-on experience in Fronius inverters. There is an industry-leading service reimbursement for in-warranty service of $250.
About Fronius USA Solar Energy Division
Fronius USA LLC, headquartered in Portage, Indiana, is the leader in photovoltaic (PV) system inverters and applicable accessories. The company is a part of a global network and subsidiary of Fronius International GmbH, headquartered in Wels, Austria. Fronius USA LLC has three divisions: Perfect Welding, Solar Energy and Perfect Charging. Through innovation and new technologies, Fronius USA has become a resource for quality service, products and innovations to the growing solar industry. For more information, visit www.fronius-usa.com.
Featured Product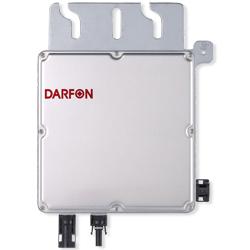 The Darfon G320 is the microinverter solution for today's high-power solar modules. The G320 handles 60- and 72-cell modules up to 350W DC and outputs up to 300W AC. The G320's 3-phase configuration accommodates the electrical distribution systems of most commercial buildings and to reduce, if not eliminate, the need for expensive transformers. The G320 comes in four voltage/phase configurations, so it can be installed in residential, commercial or utility applications.