Head of Renewables at property consultancy Bidwells, Gordon Stewart, has warned that growth in renewable energy developments should not be allowed to slip as energy prices are slashed.
The comments come amid renewed criticism of renewable technologies as an expensive source of energy. Earlier this week E-On became the first of the big energy companies to cut their prices as a result of the falling oil price.

Gordon Stewart, Head of Renewables at property consultancy Bidwells, said: "When it comes to keeping the lights on and ensuring a suitable energy mix, investors and policy makers must take a long term view. Although the dramatic fall in the oil price is currently making energy more affordable, it is likely that the oil price will rise again by 2017 and the issue of security of supply will remain.
"It's true that energy from renewable sources continues to be expensive and relies on subsidies but further development is the key to bringing those costs down while meeting our renewable energy targets.
"As a country with significant renewable energy resources the UK should continue to invest in harnessing these home grown resources if we are to guarantee security of supply in the future.
"By the middle of last year we were beginning to see worrying signs that growth in the renewables industry would ease off beyond 2017. It's important that steps are taken to turn this around and incentivise investment."
Featured Product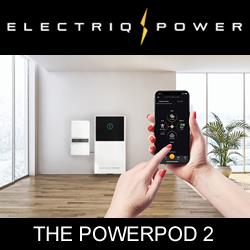 The Electriq PowerPod 2 is a fully-integrated home energy storage, management, and monitoring system powered by LFP batteries. The high-performance, cobalt-free product includes a hybrid solar/battery inverter controlled by intelligent software. The PowerPod 2 provides backup power and can self-consume or export excess power back to the grid.