China still dominates global wind market installing over 40% of all new capacity worldwide
New York, London, 22 January, 2015 – America's wind installations grew six-fold in 2014, making the United States the world's second-largest wind market behind China, according to new figures out today from research firm Bloomberg New Energy Finance.

US installations reached 4.7GW, thanks to the extension of the Production Tax Credit in January 2013. The extension allowed projects to qualify by starting construction before the deadline.
While the US returned to growth, China continued its pattern of record-setting installations up 38% from 2013. In 2014, China installed 20.7GW – over four times more than the US – and more than 40% of all new capacity worldwide. For perspective, China has been the world's largest wind market for six years, since overtaking the US. China now has 96GW of grid-connected wind energy capacity, or more capacity than the entire power fleet of the United Kingdom. Wind energy is the country's third-largest power source behind coal and hydropower, and ahead of nuclear.
China's banner year was the result of a policy-driven rush to build, as onshore tariffs are expected to lower this year. The top five Chinese turbine manufacturers Goldwind, Guodian United Power, Envision, Ming Yang, and Sewind led the market with a combined 12.4GW, or 60% of total installed capacity.
"2014 was a boom year for China's wind industry, thanks to developers rushing to complete projects ahead of the looming feed-in-tariff cut," said Yiyi Zhou, China wind analyst for Bloomberg New Energy Finance. "Most of the new build in 2014 came from domestic wind turbine suppliers, while foreign manufacturers took less than 2% of the market."
China was not the only record-setting country for installations. Germany (3.2GW), Brazil (2.9GW) and India (2.3GW) round out the top five markets along with the US; both German and Brazil totals are records for their countries.
Policy drove Germany's record year, as developers rushed to take advantage of the grace period of the outgoing support system, after a new mechanism and stricter regulations were announced last year.
"This year has seen a couple of special circumstances come together, so it probably isn't a blueprint for future development" said David Hostert, European wind analyst for Bloomberg New Energy Finance. "What is remarkable though is that more than 1GW was repowered with new turbines on existing projects. This means making better use of existing wind sites and opening up new opportunities for developers and asset owners in a mature market."
Brazil's record 2.9GW of installations was more than five times its previous high of 0.5GW, in 2011. Increased transmission access aided the market, allowing nearly 1GW of capacity built in previous years to be connected to the grid last year.
ABOUT BLOOMBERG NEW ENERGY FINANCE
Bloomberg New Energy Finance (BNEF) provides unique analysis, tools and data for decision makers driving change in the energy system. With unrivalled depth and breadth, we help clients stay on top of developments across the energy spectrum from our comprehensive web-based platform. BNEF has 200 staff based in London, New York, Beijing, Cape Town, Hong Kong, Munich, New Delhi, San Francisco, São Paulo, Singapore, Sydney, Tokyo, Washington D.C., and Zurich.
BNEF products fit your daily workflow, streamline your research, sharpen your strategy and keep you informed. BNEF's sectoral products provide financial, economic and policy analysis, as well as news and the world's most comprehensive database of assets, investments, companies and equipment in the clean energy space. BNEF's regional products provide a comprehensive view on the transformation of the energy system by region.
New Energy Finance Limited was acquired by Bloomberg L.P. in December 2009, and its services and products are now owned and distributed by Bloomberg Finance L.P., except that Bloomberg L.P. and its subsidiaries (BLP) distribute these products in Argentina, Bermuda, China, India, Japan, and Korea. For more information on Bloomberg New Energy Finance: http://about.bnef.com, or contact us at sales.bnef@bloomberg.net for more information on our services.
ABOUT BLOOMBERG
Bloomberg, the global business and financial information and news leader, gives influential decision makers a critical edge by connecting them to a dynamic network of information, people and ideas. The company's strength – delivering data, news and analytics through innovative technology, quickly and accurately – is at the core of the Bloomberg Professional service, which provides real time financial information to more than 319,000 subscribers globally. Bloomberg's enterprise solutions build on the company's core strength, leveraging technology to allow customers to access, integrate, distribute and manage data and information across organizations more efficiently and effectively. Through Bloomberg Government, Bloomberg New Energy Finance and Bloomberg BNA, the company provides data, news and analytics to decision makers in industries beyond finance. And Bloomberg News, delivered through the Bloomberg Professional service, television, radio, mobile, the Internet and three magazines, Bloomberg Businessweek, Bloomberg Markets and Bloomberg Pursuits, covers the world with more than 2,400 news and multimedia professionals at more than 150 bureaus in 73 countries. Headquartered in New York, Bloomberg employs more than 15,500 people in 192 locations around the world. For more information visit www.Bloomberg.com/now/
Featured Product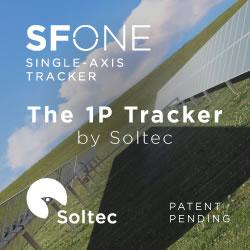 SFOne is the 1P single-axis tracker by Soltec. This tracker combines the mechanical simplicity with the extraordinary expertise of Soltec for more than 18 years. Specially designed for larger 72 an 78 cell modules, this tracker is self-powered thanks to its dedicated module, which results into a lower cost-operational power supply. The SFOne has a 5% less piles than standard competitor, what reduces a 75% the labor time.