ClimateMaster Inc. and Corken Steel Products Company announce the groundbreaking of Louisville, Kentucky traditional neighborhood development Norton Commons' North Village - an 1,800-lot, 100-percent geothermal residential community to be constructed over the next 10 to 15 years.
In partnership with manufacturer's distributor Corken Steel Products Company and geothermal driller Bucher Services, ClimateMaster Inc. announces the groundbreaking of Louisville, Kentucky traditional neighborhood development Norton Commons' North Village residential community. With all 1,800 lots of the community being pre-drilled with geothermal borehole fields, the North Village development will become the largest 100-percent geothermal residential community in the U.S. to date.

As part of its "More Life Per Square Foot" initiative, Norton Commons selected 100-percent geothermal heating and cooling for its new North Village for several reasons, including energy savings, improved comfort and reduced environmental impact.
"Geothermal heating and cooling is a natural fit for Norton Commons as we constantly seek to provide our residents with the ultimate lifestyle experience, and all the classic conveniences of a mixed-use community," said Charles A. Osborn III, managing director of Norton Commons. "We want our families to do less planning and more living, essentially maximizing every square foot of space so there is more to enjoy and more to do."
According to Osborn, geothermal heating and cooling also "will allow homeowners to truly maximize the space around their home," as these systems include a network of underground boreholes and just one or two efficiently sized geothermal heat pump units inside each home.
"Geothermal eliminates the need for outdoor air conditioning units, which means less noise and more space for residents to enjoy their yards," explained Jay Kaiser, director of sales and marketing at Corken Steel. Kaiser's company is slated as a provider of the geothermal heat pump units once construction begins on the North Village homes.
"The Norton Commons project marks an evolutionary shift in the geothermal heat pump and single-family residential housing industry," said ClimateMaster market development manager Titian Burris. "Never before has there been a project as unique as this one. This shift is exposing the change in attitudes among builders and developers as, in the past, new custom homes were the primary target for geothermal heat pump systems. Today, more than ever, they are being integrated into built-for-sale planned developments." ClimateMaster, which has a distributor partnership with Corken Steel to provide residential geothermal and water-source heat pumps for its customers, worked closely with the company to convey the numerous benefits afforded by this type of system.
"We appreciate the opportunity to do business with Norton Commons on such a monumental project," Burris said. "The management's pioneering vision with the North Village project aligns seamlessly with ClimateMaster's history in the industry."
Aurora, Indiana-based Bucher Services will begin drilling borehole fields on the first 50 lots next week, and will continue work on another 75 lots later this spring. The company will also drill borehole fields for the remainder of the lots throughout the course of the development's approximate 10- to 15-year construction period.
According to Kaiser at Corken Steel, the standard lots will include two 400-foot boreholes with 1-in. HDPE pipe to supply two to three tons of heating and cooling capacity to the subsequent homes. Larger lots will feature a three-borehole system, and will supply three to five tons of capacity.
Between 15 and 20 builders will participate in the construction of homes in the Norton Commons North Village. Once completed, it will also include its own town center with restaurants, retail shopping and other spaces for commercial business.
Norton Commons will additionally feature an interactive kiosk detailing the benefits of geothermal heating and cooling in its sales center, where current and future homeowners can learn more about these systems' installation, function and long-term energy performance benefits.
For more information on the new North Village development at Norton Commons, visit www.nortoncommons.com, or follow the @nortoncommonsky social media stream on Twitter.
About Norton Commons
Norton Commons is Louisville's first Traditional Neighborhood Development ("TND"). Planned TNDs are the cornerstone of the new urbanism movement, which promotes the creation and restoration of diverse, walkable, and vibrant mixed-use communities assembled in an integrated fashion, resulting in a complete community. Norton Commons sits on almost 600 acres in northeast Jefferson County, Kentucky and is currently home to over 850 residences, 50 businesses, 2 schools, and dozens of parks, pools and green spaces. To learn more about Norton Commons, visit www.nortoncommons.com or @nortoncommonsky on Twitter.
About ClimateMaster, Inc.
ClimateMaster, Inc. manufactures water-source and geothermal heat pumps, which are considered to be the most energy efficient and environmentally friendly type of air conditioning and heating products available on the market today. Headquartered in Oklahoma City, ClimateMaster, Inc. is a wholly owned subsidiary of LSB Industries, Inc. whose common stock is traded over the New York Stock Exchange under the symbol LXU. For more information, visit www.climatemaster.com.
-# # #-
Featured Product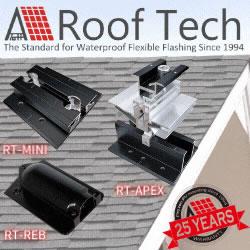 Now Roof Tech brings you the most innovative, watertight mounting systems ever developed for solar photovoltaic systems. Designed and manufactured exclusively for us by Japan's longtime leader in roofing technologies, Roof Tech products are 100% code-compliant and offer fast, simple installation and huge savings on shipping costs due to their compact, rail-less design. Learn more about our full line of versatile PV mounting solutions now available for residential installations. The next generation in rooftop solar mounting solutions."