Research shows it is the tallest electric solar system of its kind in the US.
SAN DIEGO, Calif., January 29, 2015 -- This week, Adroit Solar Energy Engineering finished installing a 143 foot tall solar photovoltaic system on a multi-family high-rise in downtown San Diego. Built as a vertical façade on the south side of the building, research shows it is the tallest electric solar system of its kind in the US.

If you are driving through downtown San Diego, you'll notice Celadon at 9th and Broadway because of the modern architectural design on the building's south side. Adroit installed the 32.5kW DC power façade PV solar system, which will generate power for the building's common area. The façade measures 143 feet – which is between 13 and 14 stories tall. Out of the 125 solar panels, 85 have black frames, and 40 have silver frames. The combination forms a step ladder design on the top floors. The 40 silver-framed panels are also translucent, allowing for some sunlight to pass through. This modern solar aesthetic also serves as a functional shaded area for residents enjoying the view.
"With the increasing demand for urban living and high-rise high density living spaces, solar PV façades are key to offsetting expensive common area loads such as elevator loads while maximizing on available solar real-estate and maintaining cool-looking modern aesthetic. We are looking forward to designing and installing more in the future," says William Chen, Adroit's VP of Engineering.
Celadon at 9th and Broadway is one of the latest developments by BRIDGE Housing, a leading affordable housing nonprofit. The 17-story high-rise will feature 250 units of affordable rental housing for individuals and small families; 88 of the apartments will serve special-needs populations, including frail seniors.
"We are committed to integrating energy efficiency into all aspects of our affordable housing development and operations," said Cynthia A. Parker, President & CEO of BRIDGE Housing. "The PV array and other systems at Celadon will help us achieve our 'Big Reach' goal of cutting energy use 20% by 2020."
Adroit also installed a solar hot water system above the 17th floor roof. In this case, the company used 106 Kioto FP1.20.HE solar hot water collectors and a 2,448 gallon custom built Haase hot water tank. With a 150.63 kW-thermal output, the system will offset an estimated 50% of the entire building's hot water needs.
According to Adroit President and CEO, Jim Backman, solar hot water systems and large multi-family apartment homes are a perfect match. "There is additional tax equity benefits to developers and funding partners. It increases Title 24 and ASHRAE 90.1 compliance margins, which can allow for integrating lower cost materials such as windows and mechanical equipment. These solar hot water systems will also increase income and improve tenant retention."
Chen agrees, saying, "…PV and solar thermal combined yields a high efficiency system that pays back very quickly. This helps apartment complex owners and developers significantly reduce net operating costs. When it's coupled with generous federal and local incentives- these long lasting systems are clearly a great investment with high financial returns."
Featured Product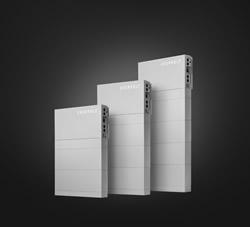 Renewable energy stored in an EVERVOLT home battery system is the perfect backup plan against an uncertain utility grid and weather events. Run key appliances longer and live life when the unexpected happens. EVERVOLT battery storage systems are covered by a complete 12-year warranty from Panasonic.