Chinese PV inverter manufacturer doubles sales and minimises failure rates
Suzhou, China, 04.02.2015

After having completely redesigned and extended its photovoltaic inverter portfolio in 2014, Zeversolar is now planning to double its sales and become one of the leading PV inverter manufacturers in its budget segment.
While completely redesigning its portfolio, the Chinese manufacturer has enhanced the quality of its inverters based on the first results of the new owner SMA. "Since we have access to extensive experience in quality management and manufacturing processes, we are now able to combine the best of both worlds: German engineering and Chinese flexibility", says Sven Schreiber, Executive Vice President at Zeversolar.
Failure rates of 0.6 %
In 2014, Zeversolar complemented its inverter portfolio and its global coverage and sold twice as many inverters worldwide as in the previous year. Besides expanding its existing series with new power ranges, the company launched new inverter series and equipped all products with new functions like reactive power control. "Our results for 2014 show that we were able to reduce our failure rate to 0.6 percent", Schreiber says.
This year, Schreiber wants to maintain this excellent quality and double the turnover and megawatts once again. Zeversolar plans on achieving this target by launching new generations of string inverters for residential and commercial applications in Zeversolar's key markets in Europe, Asia and Australia. "With our simple, affordable and reliable inverters, we are aiming to become one of the leading manufacturers in the budget segment worldwide."
About Zeversolar
Founded in 2007, Zeversolar is a leading Chinese manufacturer of reliable, affordable and simple photovoltaic inverters. With headquarters in Suzhou (China), branch offices in Germany and Australia and more than 450 employees, Zeversolar produces string inverters for residential and commercial applications as well as central inverters for industrial usage. Software and monitoring tools round off the portfolio.
Since 2013, Zeversolar has been a part of the market-leading SMA group and has acquired the process and advanced engineering competence to guarantee the quality of its products and services. Zeversolar combines the best of both worlds: Chinese flexibility and German reliability.
Publisher
Jiangsu Zeversolar New Energy Co., Ltd.
Building 9, No.198, Xiangyang Road
Suzhou, China
Tel: +86 512 6937 0998
Email: info@zeversolar.net
www.zeversolar.com
Press Contact
Krampitz Communications – PR for Renewables and Technologies
Dillenburger Str. 85
51105 Cologne, Germany
Tel: +49 221 91249949
Fax: +49 221 91249948
Email: PR@zeversolar.net
www.pr-krampitz.com
Featured Product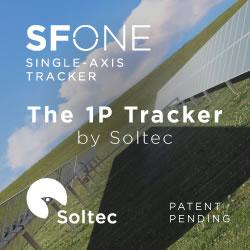 SFOne is the 1P single-axis tracker by Soltec. This tracker combines the mechanical simplicity with the extraordinary expertise of Soltec for more than 18 years. Specially designed for larger 72 an 78 cell modules, this tracker is self-powered thanks to its dedicated module, which results into a lower cost-operational power supply. The SFOne has a 5% less piles than standard competitor, what reduces a 75% the labor time.