Financing led by Fidelity Growth Partners, focused on market expansion in Sub-Saharan Africa
CHICAGO, Feb. 5, 2015 -- Fidelity Growth Partners India led a $10 million financing in Greenlight Planet, a leading US-based company that distributes solar energy products for off-grid homes in the developing world.

Greenlight Planet has experienced rapid growth in Sub-Saharan Africa and India, selling over 3 million rooftop solar lighting and phone charging devices that have improved the lives of over 15 million people living in rural and under-electrified areas. These devices will generate 55 million kilowatt-hours of energy, offset 1.5 million tons of CO2 and save their users over $340 million in fuel costs over their lifetime.
"As a result of this financing, we're building the world's largest rooftop solar consumer base in the developing world, and we're investing especially to expand distribution in Sub-Saharan Africa," says Anish Thakkar, the company's CEO and Co-Founder. According to reports published by the IFC, over 600 million people in Sub-Saharan Africa live off the electric grid, spending $11 billion annually on kerosene, batteries and candles for light. Greenlight Planet's Sun King family of solar lighting and phone charging devices retail for as low as $10 across Sub-Saharan Africa. Driven by strong sales since the company opened its first African office in 2012, the company expects to reach 100 million off-grid households by 2020.
"We see tremendous potential to provide affordable solar energy solutions for consumers in the developing world," says Kabir Narang, Managing Director of Fidelity Growth Partners India. "Greenlight Planet has established itself as a product leader with a strong brand in the fast-growing off-grid energy segment. We are excited to partner with Greenlight Planet and its exceptional management team as the company embarks on its next phase of growth." Following the closing of the financing, Kabir Narang has joined Greenlight Planet's Board of Directors.
Over 1.2 billion people worldwide live off the electric grid and use dim, smoky kerosene lanterns for light. Greenlight Planet's flagship Sun King Pro products provide ten times brighter light output than the typical kerosene lantern, charge mobile phones, and pay for themselves in less than nine months. Greenlight Planet recently launched the Sun King Home, styled as "the complete rooftop solar solution for the off-grid house." It provides rooftop solar charging, overhead lighting fixtures for a three-room home and a centralized power station for mobile phones, and soon, additional household appliances.
"Life changes for the better with Sun King – incomes increase thanks to extended working hours after dark, children study more, and the danger of a catastrophic kerosene lantern fire is eliminated, as families put away their kerosene lanterns forever," comments Anish Thakkar, the company's CEO. "We're delighted to bring Fidelity Growth Partners' expertise on-board as we massively expand distribution and work to make Sun King products more affordable for off-grid families that need these most."
About Greenlight Planet
Founded in 2007, Greenlight Planet is a leading US-based company focused on delivering honest, affordable energy to the world's 1.2 billion off-grid consumers. The company has sold over 3 million of its award-winning Sun King™ solar light and energy devices to off-grid homes in 30 countriesó1.5 million of these devices sold in the last twelve months. Today, Greenlight Planet has 6,000 village direct sales agents located across India, Kenya and Uganda and 680 full-time employees across 11 offices in the United States, Africa, India and China.
About Fidelity Growth Partners India
Fidelity Growth Partners India (FGPI) is the India-focused private equity arm of Fidelity Worldwide Investment, focused on cross-sector growth capital investing. FGPI seeks to invest up to $50 million in high-quality, high-growth companies across a range of sectors including early stage companies in technology, consumer & healthcare. FGPI is committed to making the companies it invests in leaders in their industries through access to patient capital with a long term investment mindset, a powerful network of resources and a team of investment professionals with a proven track record of success. Fidelity, Fidelity Worldwide Investment and Fidelity Growth Partners India are trademarks of FIL Limited.
Featured Product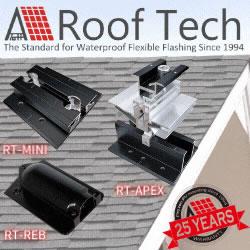 Now Roof Tech brings you the most innovative, watertight mounting systems ever developed for solar photovoltaic systems. Designed and manufactured exclusively for us by Japan's longtime leader in roofing technologies, Roof Tech products are 100% code-compliant and offer fast, simple installation and huge savings on shipping costs due to their compact, rail-less design. Learn more about our full line of versatile PV mounting solutions now available for residential installations. The next generation in rooftop solar mounting solutions."