Real-time and forecasted weather intelligence integrated into E4 control system enables more efficient plant operations and higher energy output
HERZELIYA, Israel--Ecoppia, an innovative developer of robotic, water-free photovoltaic (PV) solar panel cleaning solutions, announced today the launch of its advanced E4 control system. With the integration of real-time and forecasted information on precipitation, cloudiness and air quality, Ecoppia now offers a more intelligent and reliable operation, and provides a comprehensive view of site conditions—helping site managers make better-informed decisions on cleaning schedules.

Ecoppia's E4 technology cost-effectively removes 99 percent of dust from solar panels to maintain maximum production levels and accelerate return on investment. Each robotic E4 unit is self-charging, self-cleaning and can be monitored and controlled remotely to mitigate the need for on-site maintenance.
Data from The Weather Channel is now fully integrated into Ecoppia's web-based monitoring and management dashboard, allowing customers to access current weather conditions and forecasts for a given site and schedule cleanings. Because the data is built into E4's master control, the system can automatically retract any cleaning robots in the field during severe weather events.
Customers also have the option to receive severe weather alerts via SMS, along with scheduling recommendations.
"Our team performed various tests with the top weather information providers in the world, and incorporated the intelligence that will best support our customers and enhance the value of our E4 solution," said Eran Meller, CEO of Ecoppia. "The integration of forecasted and real-time weather conditions into the E4 control system strengthens Ecoppia's leadership position in the solar PV cleaning sector and puts us one step closer to leaving inefficient, low-tech options behind for good."
About Ecoppia
Ecoppia designs and produces innovative photovoltaic panel cleaning solutions to cost-effectively maximize the performance of utility-scale installations. The company's water-free, automated technology removes dust from panels on a daily basis to ensure peak output, even in the toughest desert conditions. Supported by a robust control unit, systems can be remotely programmed and managed to minimize O&M costs. Ecoppia is a privately held organization, backed by prominent and experienced international investment funds and led by a team of energy and robotics experts. For more information about Ecoppia please visit www.ecoppia.com.
Featured Product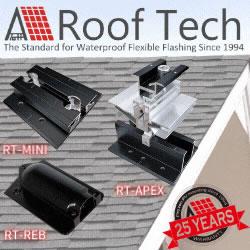 Now Roof Tech brings you the most innovative, watertight mounting systems ever developed for solar photovoltaic systems. Designed and manufactured exclusively for us by Japan's longtime leader in roofing technologies, Roof Tech products are 100% code-compliant and offer fast, simple installation and huge savings on shipping costs due to their compact, rail-less design. Learn more about our full line of versatile PV mounting solutions now available for residential installations. The next generation in rooftop solar mounting solutions."