Two solar PV industry leaders unite under the Coronal-Panasonic Eco Solutions platform
Glendale, CA, and Charlottesville, VA, (February 12, 2015) – Coronal Group LLC (Coronal) announced that it has acquired the majority of the assets of HelioSage Energy and formed Coronal Development Services, LLC (CDS), immediately establishing a robust end-to-end solar development solution available to commercial and utility clients in North America. Together with Panasonic Eco Solutions (Panasonic), Coronal owns and operates a portfolio of solar facilities in North America totaling nearly 100 megawatts (MW). The HelioSage acquisition will add in excess of 300 MW of near Notice To Proceed projects and more than 1.5 GWs of projects in development. The acquisition further strengthens and diversifies the unique Coronal-Panasonic platform by bringing in-house a first class development team.

"This acquisition will accelerate our fast-growing platform and strengthen our position as an integrated solar energy solution provider for customers with utility-scale projects and across markets in the solar industry," said Jonathan Jaffrey, chairman and CEO of Coronal Group LLC. "In addition to an extensive pipeline of both near-term and development-stage projects, we are gaining a deeply experienced and successful development team that is committed to fueling the growth of our utility-scale portfolio in North America. The financial strength behind Coronal-Panasonic places CDS in a perfect position to reap the full benefits of HelioSage's portfolio."
HelioSage's strength in utility-scale solar project development, paired with a Coronal-Panasonic platform that provides expertise in engineering, procurement and construction (EPC), project finance and asset management, makes for a compelling value proposition in today's solar marketplace. Focused primarily on power purchase agreements with utilities, over the last three years, HelioSage has executed more than 400 MW of agreements with companies including Duke Energy, Georgia Power Company, the Tennessee Valley Authority and others. HelioSage also served as the exclusive solar consultant and transaction advisor for one of the nation's largest investor owned utilities from 2012-2014, participating in the origination, due diligence, and acquisition of 230+ MW on their behalf.
"HelioSage has worked tirelessly to establish a reputation and a track record as a well-respected leader in large-scale solar development," said Chris Walmsley, president of the newly formed CDS. "Joining a team the caliber of Coronal-Panasonic represents the culmination of years of hard work - but what is most exciting to all of us is our future together."
Together with Panasonic's expertise in engineering, procurement and construction, as well as long-term operations and maintenance, CDS is uniquely positioned to serve a rapidly expanding utility-scale market.
"Panasonic is excited to have HelioSage joining the Coronal-Panasonic team," said Jamie Evans, managing director of Eco Solutions for Panasonic. "The HelioSage team brings an impressive skill set and a culture that will be very complementary to the Coronal-Panasonic platform. Collectively, we are well-positioned to execute a significant project pipeline throughout North America in the near term."
Marathon Capital acted as exclusive financial advisor to HelioSage. "Marathon Capital was pleased to help facilitate the expansion strategy of an already significant investor in the utility-scale solar space, combining HelioSage's sophisticated and powerful development platform with Coronal Group and Panasonic Eco Solutions' long-term investment vision and operational excellence," said Terry Grant, managing director of Marathon Capital.
About Coronal Development Services, LLC
Coronal Development Services, LLC (CDS) is a leading provider of solar development solutions, offering commercial and utility clients a fully integrated, streamlined development solution extending from project origination through financing, construction, and long-term operation. Coronal Group formed CDS through the acquisition of the majority of the assets of HelioSage Energy in February 2015. The combination of Coronal's proven financing and asset management strategies, its exclusive partnership with Panasonic Enterprise Solutions Company, and HelioSage's deep development expertise, deliver clients and investors with unparalleled capabilities and peace of mind. For additional information, please visit CoronalDevelopment.com.
About Coronal Group LLC
Coronal Group is an alternative energy firm that finances and operates solar PV projects for institutions, municipalities, corporations and non-profit organizations throughout the U.S. and Canada. The Coronal team, which brings more than 80 collective years of successful asset and investment management experience, and a strong record of solar project development, has been recognized by the White House Office of Innovation and Civic Participation as thought leaders in the solar industry.
The Coronal-Panasonic partnership delivers a comprehensive end-to-end solution to facilitate the development and commercialization of solar PV projects in the commercial, municipal and utility markets from inception to commercial operation – services include construction and equity financing, engineering, procurement and construction (EPC) and the operations and maintenance (O&M) of the systems. For additional information, please visit CoronalGroup.com.
About Panasonic Enterprise Solutions Company
Panasonic Enterprise Solutions Company, a division of Panasonic Corporation of North America, develops, installs and maintains large-scale Eco Solutions and Audio-Visual Solutions for business and municipal customers. Serving customers across a wide range of industries, Panasonic Enterprise Solutions engineers custom-built applications using the latest technology, experience in end-to-end management of complex corporate projects and unparalleled onsite support services. Its Eco Solutions unit offers expertise in end-to-end solar energy projects while also delivering technological and financial solutions to the rapidly expanding commercial and industrial renewable energy markets. An industry leader in Audio-Visual Solutions, the company has installed some of the largest high-definition LED video boards in the world at many well-known sports and entertainment venues in the U.S. In Interbrand's 2014 annual "Best Global Green Brands" report, Panasonic ranked number five overall and the top electronics brand in the report. Learn more: panasonic.com/pressroom.
Featured Product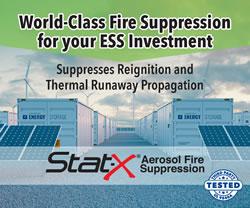 Stat-X® condensed aerosol fire suppression is a solution for energy storage systems (ESS) and battery energy storage systems (BESS) applications. Our Stat-X condensed aerosol fire extinguishing product was tested for efficacy in suppressing li-ion battery fires. It was found that the product successfully extinguished single and double cell battery fires. This testing was conducted in parallel with a large battery fire testing program on behalf of a large energy storage company.