Report details Georgia clean energy firms, jobs and revenue
Atlanta, GA – February 12, 2015 – Southface has released its 2014 Georgia Clean Energy Industry Census that quantifies the clean energy industry's impact on the state's economy. The clean energy industry includes the building efficiency, renewable energy, geothermal, smart grid, energy storage, fuel cell and alternative vehicle fuel sectors. The report provides analysis on full-time employment, revenues, export activity, business hurdles, skill gaps and growth potential.

The results show a robust and diversified industry that includes 678 clean energy firms, which provide 19,633 full-time jobs and generate over $2.9 billion of gross revenue annually. 2014 was a breakthrough year for Georgia's solar sector with the Public Service Commission approving more than 600 MW of new solar capacity. The rapid growth of Georgia's solar industry is reflected in the Census, which shows that the state's solar firms provide 2,683 full-time jobs and generate $610 million in gross revenue annually.
"The Georgia Clean Energy Industry Census demonstrates the positive economic impact of initiatives underway in both the public and private sectors," said Dennis Creech, Southface executive director. "This industry contributes to the state's manufacturing, forestry and construction sectors, among others. It also provides jobs that support our local economy."
Georgia spends about $30 billion each year on energy imports. The Census shows that the clean energy industry offers Georgia the opportunity to keep a larger portion of energy dollars within the state. Georgia's clean energy industry is predominately local with 76 percent of all clean energy goods and services staying within the state because sectors such as building efficiency conduct business activities close to the providing firm's location. However, there are opportunities for exporting; firms engaged in clean energy manufacturing deliver 50 percent of their goods to out-of-state customers.
The full report is available here. Interactive charts and tables demonstrating Georgia Census results will be available at www.cleanenergyindustry.org. The 2014 Georgia Clean Energy Industry Census is funded by a grant from the Energy Foundation and is part of the Southeast Clean Energy Industry Census.
About Southface
Southface is the Southeast's nonprofit leader in the promotion of sustainable homes, workplaces and communities through education, research, advocacy and technical assistance. Learn more at www.southface.org.
Featured Product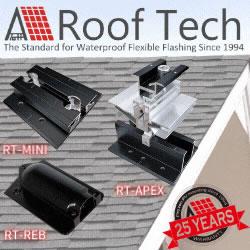 Now Roof Tech brings you the most innovative, watertight mounting systems ever developed for solar photovoltaic systems. Designed and manufactured exclusively for us by Japan's longtime leader in roofing technologies, Roof Tech products are 100% code-compliant and offer fast, simple installation and huge savings on shipping costs due to their compact, rail-less design. Learn more about our full line of versatile PV mounting solutions now available for residential installations. The next generation in rooftop solar mounting solutions."