"Clean energy is Nevada's future and there is so much potential for our state to lead the nation in renewable energy development."
WASHINGTON, DC – According to a new report by The Solar Foundation, Nevada's solar industry employment grew 146 percent in the past year, allowing it to rise to 7th in number of solar jobs by state and 1st in per-capita solar jobs. Rhone Resch, president and CEO of the Solar Energy Industries Association (SEIA) said that the big jump in employment is the result, in part, of pro-growth policies supported by Senator Harry Reid and Senator Dean Heller. The state added 3,500 solar jobs over the previous year.

"Nevada having the fastest growing solar energy industry did not happen by accident," said Senator Reid. "Our progress in the clean energy sector is an example of how federal and state policies and smart public-private partnerships encourage growth and job creation. This is proof that our hard work in Nevada to advance energy policies not only ends our addiction to fossil fuels, but also creates well-paying jobs and brings new, innovative industries to our state. Clean energy is Nevada's future and there is so much potential for our state to lead the nation in renewable energy development."
"The announcement that our state is number one in solar job creation is great news. Nevada is rich in potential for alternative sources of energy and these latest rankings prove opportunities truly are limitless," said Senator Heller. "The sun shines almost every day in Nevada, and I will continue my work on policies that position our state to harness its solar power potential. Renewable energy development is critical to our state's and our nation's long-term all-of-the above energy strategy."
The 656 megawatts (MW) of solar energy currently installed in Nevada ranks the state 6th in the country in installed solar capacity and is enough to power 100,000 homes. In 2013, $108 million was invested in Nevada to install solar for home, business and utility use. Average installed residential and commercial photovoltaic system prices in Nevada have fallen by 24 percent in the last year.
"Senator Reid and Senator Heller should be applauded for their tireless efforts to create new jobs for Nevadans and for their commitments to securing America's energy future. Time and time again, they have shown that bipartanship is the best way to benefit both our economy and environment," Resch said.
Today, the U.S. has an estimated 20 gigawatts (GW) of installed solar capacity nationwide, enough to effectively power nearly 4 million homes in the United States – or every single home in a state the size of Massachusetts or New Jersey – with another 20 GW in the pipeline for 2015 and 2016, according to SEIA and GTM Research projections. This tremendous growth, including 20 percent more jobs in 2014 than the year before and 50 percent more added solar capacity nationwide, is due largely to smart, successful public policies such as the solar Investment Tax Credit (ITC), Net Energy Metering and Renewable Portfolio Standards.
The ITC has fueled dramatic growth in solar installations. The market certainty provided by a multiple-year extension of the residential and commercial solar ITC has helped annual solar installations grow by more than 70-fold, rocketing from 106 MW to 7,400 MW since the ITC was implemented in 2006 – a compound annual growth rate of 53 percent.
Featured Product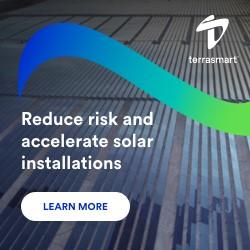 We push the limits in renewable energy, focusing on innovation to drive progress. Pioneering new solutions and ground-breaking technology, and smarter ways of working to make progress for our clients and the industry.