Ethiopian Academics and Government Officials Learn about AORA Solar-Hybrid Technology, Deepen Relationship
WASHINGTON, D.C. (February 17, 2015) –– AORA Solar (www.aora-solar.com), a leading developer of solar-biogas hybrid power technology, today announced the visit of a delegation comprised of officials from the Ethiopian Ministry of Water, Irrigation and Energy, the Ethiopian Energy Authority as well as academics from Ethiopian universities. The visit provided Ethiopian officials the opportunity to learn more about the technology and the added value the innovation can bring to both Ethiopia's academic institutions and to rural locations where AORA's Tulip system is well-suited to operate.

"This project is about more than electricity – it is about solar energy collaboration," said Mintesnot Gizaw Terefe, Associate Dean and Lecturer for the school of Energy Resource and Environmental Engineering at Addis Ababa University of Science and Technology. "Universities in developing countries have a mandate to serve local communities through researching and adapting technologies to address local problems. The Tulip is one such promising technology capable of doing so."
The visit comes on the heels of a partnership announcement between AORA Solar and the Ethiopian Government to pilot two AORA solar-hybrid systems at Addis Ababa University of Science and Technology and Adama Science and Technology University.
Tafesse Asrat Abera, an AISE Expert in Power Electronics and Off-Grid Photo Voltaic Systems at Adama Science and Technology University noted, "The Tulip encompasses a multi-disciplinary approach and therefore allows for numerous opportunities for student engagement. This involvement of the university in project development adds another dimension – process learning."
"Collaboration with local institutions is exactly what we are aiming for in making the Tulip accessible to developing nations," said Zev Rosenzweig, CEO of AORA Solar. "This activity complements our goal of creating opportunities for sustainable development."
The delegation was afforded an opportunity to view the solar receiver and turbine at the top of the AORA Tulip tower, the heliostats on the ground, and the sophisticated control system. As a result of the visit, the Ethiopians will now have a sharper understanding of how this innovative technology functions, and they will be in a better position to prepare for project implementation, including a feasibility study that is scheduled to begin in a few weeks.
The initiative complements AORA's partnership with Arizona State University where installation of a Tulip is now underway. Discussions have started on possibilities of linking renewable energy research between the universities.
Featured Product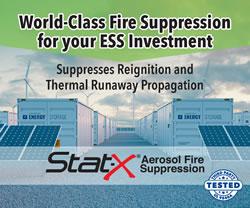 Stat-X® condensed aerosol fire suppression is a solution for energy storage systems (ESS) and battery energy storage systems (BESS) applications. Our Stat-X condensed aerosol fire extinguishing product was tested for efficacy in suppressing li-ion battery fires. It was found that the product successfully extinguished single and double cell battery fires. This testing was conducted in parallel with a large battery fire testing program on behalf of a large energy storage company.