Ballard Power Systems announced that it has signed two new Technology Solutions contracts, one with Ardica Technologies (Ardica; www.ardica.com) and one with an unnamed global automotive OEM.
For Immediate Release – February 23, 2015

Vancouver, Canada– Ballard Power Systems (NASDAQ: BLDP; TSX: BLD) announced that it has signed two new Technology Solutions contracts, one with Ardica Technologies (Ardica; www.ardica.com) and one with an unnamed global automotive OEM. Under each contract Ballard will provide expertise in proton exchange membrane (PEM) fuel cell technology in order to advance customer programs through development stages.
"These latest contracts are indicative of the growing interest we are seeing in fuel cell development programs," said Dr. Kevin Colbow, Ballard's Vice President – Technology Solutions. "In addition to the automotive sector, exciting opportunities are also emerging in aerospace, railway and military application areas. For all these, Ballard is uniquely positioned to help customers by means of compelling bundled technology solutions that leverage our deep expertise and also offer the potential for component supply in the longer-term."
The new contract with Ardica encompasses a next phase of work in the continuing development program for a wearable fuel cell power system to be used by soldiers. This next work phase will focus on cost reduction along with development of additional manufacturing capabilities, as the Ardica system – with a Ballard compact-size fuel cell stack – advances toward the prototype stage and ultimately toward certification for full scale production and purchase.
It is envisioned that the Ardica wearable fuel cell power system will provide similar or better operating performance than today's wearable lithium-ion battery, while also decreasing weight and volume more than 50% during typical missions of 72-hours duration. This would enable soldiers to power a variety of devices and carry more mission-specific equipment, without limiting mobility.
Ballard's work with Volkswagen Group and two other global automotive OEMs is continuing, augmented by a recent Technology Solutions transaction with Volkswagen Group – announced on February 11, 2015 – that includes a 2 year extension to the engineering services program. The contract announced today with a new global automotive OEM customer will involve work activities focused on fundamental fuel cell technology development.
The mandate of Ballard's Technology Solutions group is to help customers solve difficult technical and business challenges in their PEM fuel cell programs. Ballard delivers this through customized, bundled technology solutions, including world-class, specialized engineering services, access to the Company's deep intellectual property (IP) portfolio and know-how, as well as the supply of technology components.
About Ballard Power Systems
Ballard Power Systems (NASDAQ: BLDP; TSX: BLD) provides clean energy products that reduce customer costs and risks, and helps customers solve difficult technical and business challenges in their fuel cell programs. To learn more about Ballard, please visit www.ballard.com.
This release contains forward-looking statements concerning anticipated market growth drivers, service capabilities and attributes and corresponding value propositions for our customers. These forward-looking statements reflect Ballard's current expectations as contemplated under section 27A of the Securities Act of 1933, as amended, and Section 21E of the Securities Exchange Act of 1934, as amended. Any such forward-looking statements are based on Ballard's assumptions relating to its financial forecasts and expectations regarding its product development efforts, manufacturing capacity, and market demand.
These statements involve risks and uncertainties that may cause Ballard's actual results to be materially different, including general economic and regulatory changes, detrimental reliance on third parties, successfully achieving our business plans and achieving and sustaining profitability. For a detailed discussion of these and other risk factors that could affect Ballard's future performance, please refer to Ballard's most recent Annual Information Form. Readers should not place undue reliance on Ballard's forward-looking statements and Ballard assumes no obligation to update or release any revisions to these forward looking statements, other than as required under applicable legislation.
This press release does not constitute an offer to sell or the solicitation of an offer to buy securities. The Ballard Common Shares have not been registered under the United States Securities Act of 1933, as amended, or the securities laws of any other jurisdiction and may not be offered or sold in the United States absent registration or an applicable exemption from registration requirements.
Further Information: Guy McAree +1.604.412.7919, media@ballard.com or investors@ballard.com
Featured Product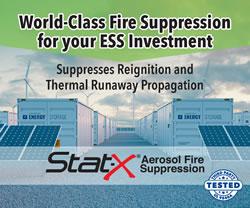 Stat-X® condensed aerosol fire suppression is a solution for energy storage systems (ESS) and battery energy storage systems (BESS) applications. Our Stat-X condensed aerosol fire extinguishing product was tested for efficacy in suppressing li-ion battery fires. It was found that the product successfully extinguished single and double cell battery fires. This testing was conducted in parallel with a large battery fire testing program on behalf of a large energy storage company.