Custom versions for specific applications are also available.
The Sensata PVAF family of solar arc fault detectors allows PV inverter and combiner box manufacturers to develop National Electric Code (NEC) 2011-compliant equipment. The PVAF family is a series of UL 1699B-recognized, pre-integrated arc detection solutions for use in inverters or combiner boxes on new arrays, or retrofit boxes on existing arrays.

Sensata's proprietary solution detects arcs while minimizing nuisance trips by identifying the electrical noise signature created by arc faults in the array wiring. Each PVAF device monitors up to four PV strings by itself, and multiple PVAFs can run in parallel to monitor more strings or a whole combiner box.
The PVAF series is available in configurations powered with 12 VDC or 24 VDC, and for monitoring strings up to 15 A at 1,000 V or combined lines up to 40 A at 1,000 V. Custom versions for specific applications are also available.
New for 2015 is the 20 amp version of the PVAF. The new PVAF-R4-20A24-002 is a Sensata Arc fault detector for solar applications. This version has stand-off mounting holes. Enables compliance with 2011 US National Electric Code (NEC 2011 Article 690.11). Up to 4 CTs / 4 strings per device. Each CT detects arcs on conductors up to 20A, 1000VDC (80A for entire device). Multiple devices can be nested for larger numbers of strings. This part ending -002 is specially tuned to maximize the margin of safety against nuisance tripping on arrays with central inverters. Applications in combiner boxes or string inverters. UL recognized. Stand-off mounting holes. These products are stocked at Sensata's authorized stocking distributor Peerless Electronics Inc.
For more information, visit: http://www.peerlesselectronics.com/store/categories/Alternative-Energy/
Featured Product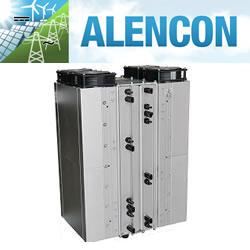 Alencon Systems is the premier manufacturer of high power, high voltage DC:DC optimizers for alternative energy applications including solar, battery energy storage, Microgrids, Fuel Cells and Electric Vehicle charging. Alencon's DC:DC converter offerings include the SPOT, BOSS and CUBE series DC:DC converters. The SPOT is a modular, uni-directional DC:DC solution ideal for solar applications. The BOSS is a modular, bi-directional unit for use with battery energy storage. The CUBE is a monolithic DC:DC converter which is available in both uni-directional and bi-directional modalities. Pictured above, is the Alencon SPOT.