The Award Winning Middle East & North Africa Solar Conference & Expo is organizing for the first time the MENASOL Awards 2015 to celebrate CSP and PV companies in their effort to develop solar power in the region.
The nominations will be assessed by a panellist of industry experts including: Dr. Rabia Ferroukhi, Head of Policy Unit Deputy Director – Knowledge, Policy and Finance, IRENA; Jonathan Walters, Former Director – Regional Programs and Partnerships at the World Bank; and Luis Crespo, President of ESTELA.

The MENASOL Awards 2015 categories have been chosen to reward PV and CSP companies, finance and advisory bodies, and government institutions that have shown their commitment and efforts to develop solar power in the region. The newly announced categories are as follows:
Government Renewable Energy Programme 2015
Solar Project Finance 2015
PV Developer 2015
PV Technology Innovation for MENA 2015
CSP Developer 2015
CSP Technology Innovation for MENA 2015
Solar Corporate Responsibility 2015
Nominations are open until the 16th March 2015 with the announcement of the finalist on the 1st April 2015. The winners will be revealed during the MENASOL Awards 2015 Ceremony on the evening of the first day of the 7th Middle East & North Africa Solar Conference & Expo which will take place on the 13th & 14th May in the Hyatt Regency Dubai in the United Arab Emirates.
To nominate your company for MENASOL Awards 2015 visit: http://goo.gl/alCBx6
Or get in touch with Mercedes Galindez at mercedes@pv-insider.com
Featured Product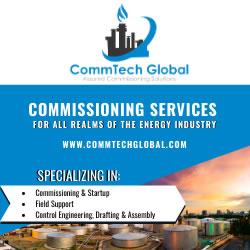 CommTech Global Solutions, LLC, provides professional and reliable commissioning services to customers in all realms of the energy industry. We blend our skills in engineering and technology with innovative business models, offering a complete range of services to assist you for a successful and in compliance operational startup. Consolidation of all our service domains gives our clients a comprehensive set of expertise and far-reaching experience on each project.