New product options can be customized to meet specific route needs
Greenville, S.C., Feb. 24, 2015 – To more fully serve the diverse needs of the North American transit market, Proterra Inc., the leading provider of zero-emission battery-electric buses, has launched a new extended-range product line. With the introduction of the new TerraVolt XR extended-range battery, Proterra buses can now be configured to travel up to 180 miles between charges. This newest high energy density battery complements the existing TerraVolt FC fast-charge battery which has been extensively tested over nearly one million customer revenue miles.

These two battery packs are key components of Proterra's revolutionary TerraFlex energy system and can be used interchangeably in the Catalyst vehicle platform. This system enables customers to select the right amount and type of energy storage to meet specific route requirements. Once customized, operators can easily reconfigure battery packs to meet evolving service needs. Both battery systems are compatible with Proterra's on-route and in-depot chargers, resulting in a platform with ultimate flexibility at the lowest cost.
"Operating successfully in cities across the country, the Proterra Catalyst is the most energy-efficient transit bus on the market," said Matt Horton, vice president of sales and marketing at Proterra, Inc. "Adding extended-range capabilities to our existing portfolio of fast-charge products, enables us to help our customers meet more of their most demanding service requirements. The flexibility of our platform allows our customers to more confidently invest in the future of transit."
The fast-charge Catalyst FC is now available in configurations carrying between 53 kWh and 131 kWh of energy storage and can be fully recharged in under 10 minutes.
The extended-range Catalyst XR is now available in configurations carrying between 129 kWh and 321 kWh of energy storage and can be recharged in a little over an hour.
The new product line continues to deliver on Proterra's promise to be the lightest-weight and most energy-efficient heavy duty platform available.
About Proterra
Proterra is a leader in the design and manufacture of zero-emission vehicles that enable bus fleet operators to significantly reduce operating cost while delivering clean, quiet transportation to the community. Proterra has sold to 12 different transit agencies throughout North America. Proterra's configurable EV platform, battery and charging options make its buses well-suited to a wide range of transit and campus routes. With unmatched durability and energy efficiency based on rigorous U.S. certification testing, Proterra products are proudly designed, engineered and manufactured in America, with offices in South Carolina and Silicon Valley. For more information about Proterra, please visit www.proterra.com.
Featured Product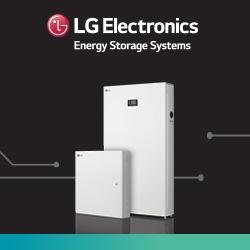 Meet LG Electronics Home 8 Energy Storage System (ESS), a whole home battery backup solution built with installers and their homeowner customers in mind. The ready-to-deploy Home 8 features just one SKU and a modular assembly for fast installation. It can be AC-coupled or solar-powered and is engineered with a grid-connected inverter, four battery modules, and a Smart Energy Box featuring a 7'' LCD touchscreen with commissioning wizard for easy setup. Each Home 8 unit can store up to 14.4 kWh of usable power, helping homeowners gain pure independence from the grid. Plus, installers can connect up to four units, bringing customers up to 57.6 kWh of total backup power-all easily managed and monitored through intuitive mobile apps.