Trina Solar is the First Solar Company to Receive Certificate
New Delhi, 24th Feb 2015, Trina Solar Limited (NYSE: TSL) ("Trina Solar" or the "Company"), a global leader in photovoltaic ("PV") modules, solutions and services, has recently announced that its State Key Laboratory Testing Center became the first testing center in the solar industry to receive the Power Measurement Uncertainty Assessment Service ("UAS") Certificate from TUV Rheinland. This certificate validates the accuracy of on-site power measurements recorded at the Trina Solar State Key Laboratory Testing Center. Following the certification, all products assessed by the Company's State Key Laboratory Testing Center will carry a TUV Rheinland certification mark.

Trina Solar received the Power Measurement UAS Certificate from TUV Rheinland after seven months of continuous tracking, identifying key influencing factors, technique optimization and rigorous on-site training. This certification proves that the procedures, test equipment and staff capabilities employed during the process of power output measurement at Trina Solar's State Key Laboratory Testing Center are in accordance with stringent International Electrotechnical Commission (IEC) standard as well as TUV Rheinland strict assessment criteria.
The certification provides clear guidance to PV manufacturers and buyers on the power rating of PV modules, provides transparent information about the performance, and minimize measurement uncertainty of PV module output. It also helps manufacturers improve the accuracy of measurements and reduce measurement errors.
"We are delighted to obtain the TUV Rheinland Power Measurement UAS Certificate and the accreditation recognizes our State Key Laboratory's capability in power output measurement," said Wei Zhou, Vice President of Quality Department of Trina Solar. "The PV industry is facing fierce competition. Modules verified by an objective third party greatly enhance customer confidence and increase sales. With the continuing development of solar power in China, ensuring the quality of solar power plants is paramount. TUV Rheinland's recognition of our internal power measurement system assures our partners and customers of the reliability and quality of our modules. It will further strengthen our position as the leading module manufacturer in the world."
"Our power measurement system is not a simple certification assessment but rather a continuous process of improvement and optimization," said Robert Struwe, Vice President of TUV Rheinland Greater China Solar/Fuelcell Technology Division. "We are pleased to see Trina Solar become the first solar company to pass the assessment for corporate laboratory power measurement. Throughout the verification process we witnessed Trina Solar's unremitting commitment to improvement and we look forward to further support Trina Solar in the future."
About Trina Solar Limited
Trina Solar Limited (NYSE:TSL) is a global leader in photovoltaic modules, solutions and services. Founded in 1997 as a PV system integrator, Trina Solar today drives smart energy together with installers, distributors, utilities and developers worldwide. The company's industry-shaping position is based on innovation excellence, superior product quality, vertically integrated capabilities and environmental stewardship. For more information, please visit www.trinasolar.com.
About TUV Rheinland
TUV Rheinland is a global leader in independent inspection services, founded more than 140 years ago. The group maintains a presence in 66 countries with 18,000 employees; annual turnover is more than EUR 1.6 billion. The independent experts stand for quality, efficiency and safety for people, technology and the environment in nearly all aspects of life. TUV Rheinland inspects technical equipment, products and services, oversees projects and helps to shape processes for companies. Its experts train people in a wide range of careers and industries. To this end, TUV Rheinland employs a global network of approved labs, testing and education centres. Since 2006, TUV Rheinland has been a member of the United Nations Global Compact to promote sustainability and combat corruption. Website: www.tuv.com
Featured Product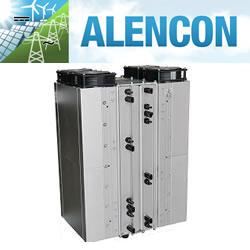 Alencon Systems is the premier manufacturer of high power, high voltage DC:DC optimizers for alternative energy applications including solar, battery energy storage, Microgrids, Fuel Cells and Electric Vehicle charging. Alencon's DC:DC converter offerings include the SPOT, BOSS and CUBE series DC:DC converters. The SPOT is a modular, uni-directional DC:DC solution ideal for solar applications. The BOSS is a modular, bi-directional unit for use with battery energy storage. The CUBE is a monolithic DC:DC converter which is available in both uni-directional and bi-directional modalities. Pictured above, is the Alencon SPOT.