US-Australian company prepares for US market launch of disruptive product aimed at radically reducing California residential water, energy, and wastewater use ---- Estimates US market opportunity to be $15 billion per year
LOS ANGELES & CAMBRIDGE, Mass. & SYDNEY & CANBERRA, Australia--Nexus eWater, Inc. today announced the successful closing of $2.1 million in Series A funding from investors in the US, Australia and UK.

Nexus eWater has developed the world's first practical water and energy recycler for homes. The estimated annual US market for this new product suite is projected at $15 billion per year. The patented product collects a home's grey water (the drain water from showers and laundry), then cleans it to the highest standard for at-home recycling for lawn watering and other approved uses. Additionally, the system captures and re-uses the heat found in the grey water for further recycling. The system is available for both new homes and for retrofits.
The international investor team includes Canberra-based venture fund ANU Connect Ventures (ANUCV), the Sydney Angels and the Sydney SideCar Fund. The round was led by Thomas Reeves Hitchner, the retired general partner of Baltimore-based venture fund, QuestMark Partners. Proceeds from this funding cycle will complete the initial product roll-out of Nexus' on-site water and energy recycling products for the California and US market.
The Nexus system is affordable, robust and efficient. It is a sustainability "triple play." For a house with a family of four, the system provides these three benefits:
* Reduces in-home water usage by 40%, (up to 200 gallons per day) by recycling 67% of the water used in a house;
* Reduces wastewater by 70%, (up to 200 gallons per day); and
* Reduces home electric energy usage by 10-20%.
The energy recycler provides the equivalent power of a 1.5 kW solar array, but at a fraction of the cost. In large, older homes, this amount could be tripled. Energy recycling is accomplished by using a patented heat pump system, which harvests the energy from the warm grey water and then uses that energy to heat fresh, new water for the home. By recycling this energy, the home's water can be heated using 75% less energy than any conventional tank or tankless water heater.
Customers include new home builders/developers, water districts, cities, energy utilities and existing homeowners. The company is launching in drought-stricken California and has pilot projects in several locations across the state including Los Angeles, Pomona, as well as in two high-profile eco projects with KB Home for their Double ZeroHouse 2.0 in the City of Lancaster, California, and the KB Double ZeroHouse 3.0 in El Dorado Hills (Sacramento).
Mark P. Petroff, CEO of Nexus eWater, stated: "We are excited about the huge potential market for Nexus products in the US and globally. Being first-to-market in an untapped $15 billion market sector with a low-cost, robust and reliable system is an enormous opportunity, and we expect to grow the company rapidly. Nexus looks forward to our partnerships with ANUCV, Sydney Angels, Sydney Sidecar Fund, Thomas Hitchner and our other Australian, US and UK investors. We believe the critical need in California and in the US Western region for a solution such as ours will help drive faster adoption of our patented products."
"We have supported this technology through our two funds and have been delighted with the progress," said Nick McNaughton, CEO of ANU Connect Ventures. "Over the last year the company has made significant progress in commercializing its technology and introducing it to drought-stricken areas like Southern California."
Nik Hayes, who led the Sydney Angels syndicate team (including the Sydney Angels' Side Car Fund investment), commented that Nexus eWater has a compelling product, a strong team and the right 'go-to-market' strategy. "When the Nexus team pitched the Sydney Angels, it immediately resonated with a number of our members. It's a fantastic Australian-developed innovation with huge potential in overseas markets. The team has also taken a global approach by identifying the right market to launch the product, and we're very excited," he said.
The system was developed in Canberra, Australia by company co-founders: Andrew Hermann, Tom Wood and Craig Richmond.
As part of the transaction, Thomas Reeves Hitchner of Cambridge, Massachusetts, will join the Company's board of directors. Additionally, Mark C. Gauci will join as the board representative for ANUCV. Mr. Gauci is Sydney based and manages Australian operations for the global company, bioMérieux, a worldwide leader in invitro diagnostics.
About Thomas Reeves Hitchner
Mr. Hitchner is the co-founder and retired general partner of QuestMark Partners, a Baltimore-based expansion-stage venture capital firm that he co-founded in 1998. Previously, he was an investment banker with Alex. Brown & Sons where he began the Private Equity Group. While there, he was responsible for selecting, analyzing, structuring, marketing and monitoring private equity placements, primarily for young technology firms. He has served on the boards of a number of early- and expansion-stage company boards. Tom received his undergraduate degree from Harvard University in 1974 and resides in Cambridge, Massachusetts.
About ANUCV
ANU Connect Ventures manages a AU$27M pre-seed investment fund formed through a partnership between The Australian National University, MTAA Superannuation Fund and the ACT Government. The Discovery Translation Fund, also managed through ANU Connect Ventures, is an initiative of the ANU and the ACT Government which provides proof of concept grants to ACT region companies and research.
The pipeline of support these two funds provide for commercial opportunities in Canberra puts ANU Connect Ventures in a unique position to invest in and incubate the ACT's talent locally for a higher value regional return. See www.anuconnectventires.com.au.
About Sydney Angels
Sydney Angels is an angel group whose members invest in innovative early-stage companies with high growth potential. Sydney Angels provides its members with quality deal flow, a collaborative investment process, and an opportunity to support entrepreneurs and the early-stage ecosystem. Sydney Angels offers entrepreneurs an efficient path to capital, expertise and experience from its members, who are backed by the AU$10 million Sydney Angels Sidecar Fund. For more information: www.sydneyangels.net.au.
About Nexus eWater, Inc.
Nexus eWater, Inc. is a US-Australian company that has developed the world's first practical, on-site Water and Energy Recycler for new and existing homes. Nexus is the leader in a new water/energy cleantech market that is expected to grow to more than $15 billion annually in the US. The patented product suite solution is:
* The world's first practical home water recycler; and
* The world's only energy recycling, energy storage water heater – the most efficient on the market.
The Nexus solution can achieve unprecedented water and energy savings in single family homes including:
* Reduces city water purchase for in home use by up to 40%;
* Reduces domestic sewage by 70%;
* Reduces water heating energy by 75%;
* Reduces grid energy demand by 10-20%;
* Can generate savings of $50-$200 per month per home for water, sewer, and electric bills, in high rate areas; and
* Also harvests rainwater.
See www.NexusEwater.com
Featured Product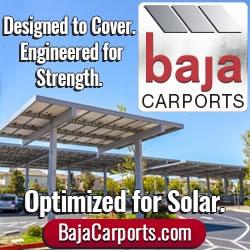 Baja Carports offers an extensive solar support system product line customized to customers' site specifications by in-house engineers, meeting their parking lot coverage, plus optimal PV production needs. Baja's Full Cantilever Tee is often paired with its Semi and Full Cantilever carports to meet live/loads up to 60psf and wind speeds to 160mph. All Baja products are pre-fabricated, bolted connections, pre-galvanized structural steel for fast on-site installation and project aesthetic requirements."