Senior official from PSS defines what he thinks are the main influences for solar consumers in 2015.
March 05, 2015

The market influences that sent thousands of homeowners to the buying table in the last year are holding up in 2015 as well, according to solar company PSS. Jonathan Chase who is the company's market analyst is constantly reviewing their customer behavior and measuring common activity to improve their services. Jonathan has been involved in the market for years and mentioned the importance of collecting and building new campaigns from this data. "The importance of solar power has been evident to our company; however, for some time we have wanted to understand the influences that drive consumers to install a system in order to improve our business," says Jonathan.
Past types of trends that drove consumers to make purchases is what shaped PSS's approach in 2015. Jonathan Chase has worked hard for years to help and improve customers experience based on analyzing their behavior. Other big name companies have done the same with their own market researches. This data combined with the goals to become sustainable is what led big companies to going solar to make their customers and environment happy. The Solar Energy Industry Association (SEIA) announced that big companies were going solar now that might influence consumers as well. "From large corporations such as Walmart, Costco, Apple and IKEA to small, local companies, U.S. businesses are making significant investments in solar to cut energy costs," explains SEIA. Jonathan believes the larger companies that go into solar also provide influence for homeowners. "Homeowners notice trusted brands going green and it drives them further to learn more about potential of solar power," explains Jonathan.
Lowering carbon emissions and saving money on electricity bills has always been highly important for consumers. The factors that Jonathan analyzed as influential for solar purchasing in 2015 are listed below:
"We at PSS believe and understand these factors are driving majority of consumers to go solar in 2015 based off analyzing past customer behavior; leasing and financing program with a long term lower fixed rate, 30% tax credit, free solar panels Installation, and a free system monitoring. Basing our campaign of these factors will allow us to better provide the consumers with what they want," explains Jonathan.
Featured Product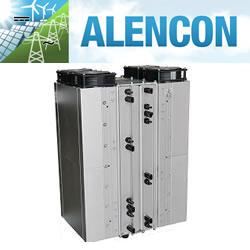 Alencon Systems is the premier manufacturer of high power, high voltage DC:DC optimizers for alternative energy applications including solar, battery energy storage, Microgrids, Fuel Cells and Electric Vehicle charging. Alencon's DC:DC converter offerings include the SPOT, BOSS and CUBE series DC:DC converters. The SPOT is a modular, uni-directional DC:DC solution ideal for solar applications. The BOSS is a modular, bi-directional unit for use with battery energy storage. The CUBE is a monolithic DC:DC converter which is available in both uni-directional and bi-directional modalities. Pictured above, is the Alencon SPOT.