Advanced closed-loop technology ensures a precise, continuous flow of material
North Canton, OH – Graco Advanced Fluid Dispense (AFD), a world leader in fluid handling products and systems, announces that it offers a Precision Continuous Flow (PCF) metering dispense system for critical applications of single component sealant and adhesive materials. Engineered for automated applications, the Graco PCF metering system offers a reduced total cost of ownership when compared with competing technologies such as shot meters. The system dispenses a precise, continuous flow of single component sealants and adhesives, producing repeatable, consistent material patterns with reduced waste and rework.

Capable of handling ambient, warm melt and hot melt materials up to 400°F, the Graco PCF metering system is ideal for automated applications including but not limited to: powertrain gasketing (RTV), automotive body shop, automotive paint shop, electronics, medical devices, or any other application requiring repeatable, quality-assured dispensing. The system features intuitive user interface controls, and offers self-diagnostic features that allow for predictive and preventative maintenance strategies, thus improving process uptime. The system's closed-loop, real time control of material flow ensures that less material is wasted than by traditional technologies, thereby reducing costs.
The Graco PCF offers three flow meter options to effectively manage a wide range of materials and applications: Ultra High Resolution meters for applications requiring <1- 25cc dispense; High Resolution meters for those requiring 25 cc and above; and a Coriolis meter for applications requiring superior abrasion resistance. Additionally, this product is capable of accurately dispensing material with an accuracy of +/- 1%, ensuring that even the most difficult dispensing needs are met.
The Graco PCF metering system is capable of programing and storing parameters for up to 255 different part styles, giving manufacturing work cells the necessary flexibility to improve process efficiency. Additionally, the system can be configured to handle multiple dispense applications from a single controller independently for added flexibility. The system also features an integrated USB interface for easy data downloads to allow for analysis of process data.
Featured Product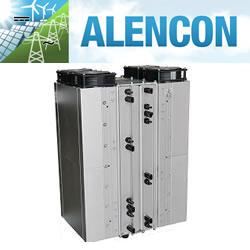 Alencon Systems is the premier manufacturer of high power, high voltage DC:DC optimizers for alternative energy applications including solar, battery energy storage, Microgrids, Fuel Cells and Electric Vehicle charging. Alencon's DC:DC converter offerings include the SPOT, BOSS and CUBE series DC:DC converters. The SPOT is a modular, uni-directional DC:DC solution ideal for solar applications. The BOSS is a modular, bi-directional unit for use with battery energy storage. The CUBE is a monolithic DC:DC converter which is available in both uni-directional and bi-directional modalities. Pictured above, is the Alencon SPOT.