Today with Name Change and New Identity
COLUMBIA, Md.--New Energy Technologies, Inc. (OTCQB: NENE), developer of see-through coatings capable of generating electricity on glass and flexible plastics, announced that, effective today, March 9, 2015, the Company's name is "SolarWindow Technologies, Inc." Visit our new Company identity and website at: www.solarwindow.com.

The company's stock ticker will change, pending Financial Industry Regulatory Authority (FINRA) approval. SolarWindow will announce the use of its new ticker symbol upon FINRA approval. Until then, shares of stock continue to be traded as OTCQB: NENE.
About SolarWindow Technologies, Inc.
SolarWindow Technologies, Inc. is a developer of next generation electricity-generating SolarWindow coatings.
SolarWindow coatings generate electricity on see-through glass and flexible plastics with colored tints popular to skyscraper glass. Unlike conventional systems, SolarWindow can be applied to all four sides of tall towers, generating electricity using natural and artificial light conditions and even shaded areas. SolarWindow uses organic materials, which are dissolved into liquid, ideal for low-cost high-output manufacturing; and is the subject of a patent pending technology.
Through established relationships with universities, research institutions, and commercial partners, we strive to identify technologies and business opportunities on the leading edge of renewable energy innovation. Unique to our business model is the use of established research infrastructure owned by the various institutions we deal with, saving us significant capital which would otherwise be required for such costs as land and building acquisition, equipment and capital equipment purchases, and other start-up expenses. As a result, we are able to benefit from leading edge research while employing significantly less capital than conventional organizations.
The Company's Proprietary Power Production & Financial Model (Power & Financial Model) uses photovoltaic (PV) modeling calculations that are consistent with renewable energy practitioner standards for assessing, evaluating and estimating renewable energy for a PV project. The Power & Financial Model estimator takes into consideration building geographic location, solar radiation for flat-plate collectors (SolarWindow irradiance is derated to account for 3600 building orientation and vertical installation), climate zone energy use and generalized skyscraper building characteristics when estimating PV power and energy production, and carbon dioxide (CO2) equivalents. Actual power, energy production and CO2 equivalents modeled may vary based upon building-to-building situational characteristics and varying installation methodologies.
For additional information, please call Ms. Briana L. Erickson toll-free at 1-800-213-0689 or visit: www.solarwindow.com.
Featured Product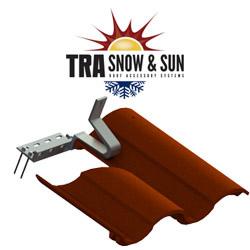 You haven't installed a tile mount that is easier to install than the Solar Tile Mount manufactured by TRA Snow and Sun. Solar Tile Mount is used on all tile roof profiles: flat, mid, and high. It is made in the USA of aluminum alloy for strength and excellent corrosion resistance. Solar Tile Mount is built to allow more ease in installation with more rise from the tile surface to the rail for better air flow below panels. The adjustable base is longer than most allowing attachment 6" to the left or right to have the bracket in the base of the pan of the tile and still fasten to the rafter. Solar Tile Mount is adjustable for counter batten systems from ¾" to 3". The horizontal rail is directly above base fasteners giving greater uplift resistance than any other system. For superior waterproofing apply TRA Snow and Sun's butyl backed VersaFlash aluminum flashing. No tile flashing is needed on top of the tile for greater labor and material cost savings.