Awards recognize projects helping to spread solar across New England
BOSTON -- The nation's first microgrid powered solely by solar energy and battery storage. A 1.8-megawatt (MW) solar project that turned the site of a former hazardous waste dump in New Bedford, Mass., into an asset expected to shave millions off the city's power bills over the next 20 years. A group buying program that allows homeowners across Connecticut to go solar for less and shows the power of community interaction in driving solar growth.

What these very different photovoltaic solar projects have in common is that they were among the five installations named as PV America's 2015 Projects of Distinction as the two-day solar industry conference got under way today in at the Westin Harborside Hotel in Boston. The five projects honored at the event included:
-- Soveren Community Solar 1 LLC: A 150-kilowatt (kW) community solar installation built on seasonally adjustable ground mounts, this Vermont project was locally developed, financed and owned.
-- Stafford Hill Solar Project: This 2.5-MW project in Rutland, Vermont combines PV solar, storage and microgrid technology in an innovative partnership with the Department of Energy and Green Mountain Power.
-- Liberty Village: This 110-kw project is located on a former military base in Amityville, NY and provides clean power for about 60 veterans and their families, many of whom were previously homeless.
-- Solarize Connecticut and SEEDS Research: This bulk-buying program allows homeowners in different communities across Connecticut to go solar, while also researching different program models and the effect of peer influence on solar growth.
-- Sullivan's Ledge: Owned by the city of New Bedford, Mass., this 1.8 MW project is one of the first solar installations developed on a federal Superfund site, providing a model for responsible land use and public-private collaboration.
Given by PV America's joint organizers, the Solar Electric Power Association (SEPA) and the Solar Electric Industries Association (SEIA), the awards recognize major achievements in the New England solar marketplace.
The five projects honored in Boston topped a field of dozens of nominees and were judged on a range of criteria, from design and technology to community involvement and benefits.
"Even though snow is still piled high in Boston, these projects clearly show that New England is a solar powerhouse and a hub for innovation," said Julia Hamm, President and CEO of SEPA. "We also want these award winners to serve as models that can be replicated and easily adapted by other jurisdictions across the country, further driving down costs and providing smart ways to increase the amount of solar on the grid."
Featured Product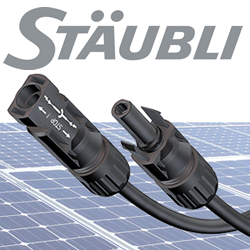 ​Stäubli Electrical Connectors are used on more than 300 GW, over 50% of the PV capacity worldwide. The MC4 family of UL and TUV listed products include connectors, in-line fuses, branch connectors, cable assembly and more.