SGS Italia has been awarded Notified Body status for Transportable Pressure Equipment Directive (TPED) 2010/35/EU.
SGS Italia has been appointed as a Transportable Pressure Equipment Directive (TPED) 2010/35/EU Notified Body.

The 2010/35/EU Directive for transportable pressure equipment defines the rules and procedures regarding the certification and periodical inspection of equipment falling within its scope and replaces Directive 1999/36/EC.
As a Notified Body, SGS Italia can conduct the following activities in the field of TPED:
- Conformity assessment activities
- Exceptional checks
- Intermediate inspections
- Periodic inspections
- Reassessment of conformity
According to section I.1 of Annex I (ADR), section II.1 of Annex II (RID) and section III.1 of Annex III (ADN) to 2008/68/EC Directive and Annex III to 2010/35/EU Directive, SGS Italia can carry out all activities in the following product categories:
- Pressure receptacles including gas cartridges, their valves and other accessories when appropriate
- Tanks, battery vehicles/wagons, multiple-element gas containers (MEGCs), their valves and other accessories when appropriate
In Europe, inland transportation of dangerous goods is regulated by Directive 2008/68/EC and its annex, three European Agreements concerning the International Carriage of Dangerous Goods: by road – ADR, by rail – RID and by inland waterway – ADN. In accordance with the TPED Directive, transportable pressure equipment as packaging for dangerous goods, must be designed, manufactured and marked according to ADR, RID and AND, and inspected by a Notified Body (if required).
SGS Italia - Transportable Pressure Equipment Directive (TPED) 2010/35/EU Notified Body
SGS Italia is accredited to perform verification of compliance for a range of Directives, both European and international.
Due to its multi-year experience in PED certification for pressure equipment (http://www.sgs.com/en/Industrial-Manufacturing/Services-Related-to-Production-and-Products/Product-Certification/Pressure-Equipment-Certification.aspx) (Directive 97/23/CE), welding certification and welder qualifications, and the certification of manufactured and welded systems and steel product (EN 3834, EN15085 and EN 1090), SGS Italia is the perfect partner for industrial manufacturing certification and inspection.
For further information please contact:
SGS Italia SpA
Caterina Scarpa
Projects Coordinator
t: +39 041 29 02 546
E-mail: industrial.pr@sgs.com
www.sgs.com/Industrial-Manufacturing
SGS is the world's leading inspection, verification, testing and certification company. SGS is recognized as the global benchmark for quality and integrity. With more than 80,000 employees, SGS operates a network of over 1,650 offices and laboratories around the world.
Featured Product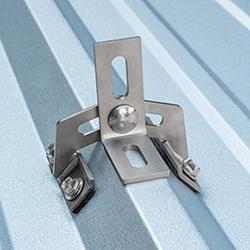 Explore new lines of income for your solar installation business with QuickBOLT's Stone Coated Steel roof mounts designed in partnership with metal roof manufacturers themselves. These SCS roof mounts work on all metal tile profiles and will help you bring in money you're missing out on. By not driving into the roofing material, QuickBOLT's Stone Coated Steel roof hooks maintain the integrity of the roof. Install with ease and confidence knowing your roof is protected against the harsh elements that these hooks are designed for.