Success of sun2go XL turnkey solution in African and Asian markets
Gurgaon, India. The meeco Group, through its local subsidiary, meeco India (Pvt) Ltd., is ramping up power generation in India. Facing a steady increase of demand for hybrid systems from 1 kWp to 3 kWp, meeco India (Pvt) Ltd. has decided to raise the production of sun2go XL products and to widen its number of available options.

Th e meeco Group, one of the world's leading clean energy companies, founded meeco India (Pvt) Ltd. in 2010. Since then, more than 60 MWp of photovoltaic projects have been completed with meeco India (Pvt) Ltd. delivering the complete project, essential services or supplies thereof.
The sun2go XL turnkey solution of The meeco Group is a portable and semi portable solar generation and energy storage system. sun2go XL is an easily movable solution that can provide energy for small residential units, small rural clinics, offices, telecom repeater stations, agricultural needs, lighting applications, rural communities or any other type of situation requiring off-grid power supply.
The Managing Director of meeco India (Pvt) Ltd., Mr. Tarun Munjal, explains: "We are experiencing a high growth in this segment in both Africa and India. The p roducts in the sun2go XL range, manufactured in our facilities in India, have been very well received in these markets. In order to meet the extra demand, we had to increase the production of sun2go products. In the next two quarters of 2015, we will focus on building an Asian-African dealer network to provide local support for the products."
Concurrently with this sun2go XL development, meeco India (Pvt) Ltd. has launched the output of new variation frequency drives (VDF) pump controllers in India that will be available for sun2flow products. "This is a ground up development designed to work optimally with pumps and in rugged conditions. Our variation frequency drives have many advantages compared to general variation frequency drives used by most providers on the market", Mr. Munjal declares.
The Managing Director also shares, that new developments for the sun2safe energy management turnkey solution of The meeco Group will be announced during the next quarter of t his year.
In addition Mr. Munjal highlights the involvement of meeco India (Pvt) Ltd. in the Smart Cities initiative and declared: "Our team has been pleased to work on this very exciting project."
The Smart Cities initiative is a project envisioned in India, which consists off the creation of smart cities, which leverage information and communications technology to greatly improve the productivity, lifestyle and the prosperity of people. The objective is to build environmentally sustainable cities with green growth strategies in order to get urbanization right.
About The meeco Group: The meeco Group was consolidated in 2000 and oriented its main focus towards the energy sector. With world headquarters located in Zug, Switzerland, the group currently has over 50 employees working across 4 continents. Thanks to a structured but flexible approach based on its core competencies, The meeco Group has delivered over 320 MW of clean, renewable ene rgy solutions across four continents. The meeco Group accomplishes its mission by providing project developers, investors, governments, and private businesses with the services necessary for timely financing, installation, and operation of clean energy assets.
Download pictures under: http://www.medienkontor.net/en/pressebilder/meeco.html
For further information visit www.meeco.net and www.meeco.net/blog/
Featured Product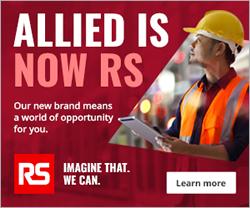 Moxa is a leader in edge connectivity, industrial computing, and network infrastructure solutions for enabling connectivity for the Industrial Internet of Things. With over 30 years of industry experience and 65 million devices connected worldwide, Moxa has a distribution and service network to serve customers in more than 80 countries. Now at Allied-find over 1,000 products from Ethernet switches, protocol converters, routers, and more. Allied Electronics & Automation, part of RS Group & Automation, part of RS Group is an authorized distributor of Moxa.