HKSTP led delegation to share new ideas in building a greener and smarter future
HONG KONG, March 13, 2015 -- Hong Kong Science and Technology Parks Corporation ("HKSTP") is bringing Hong Kong's sustainable innovations to the world by leading a delegation of cleantech companies to the Cleantech Forum San Francisco 2015, at the Palace Hotel, San Francisco, from 16-18 March. Through this annual event, green technology start-ups showcase their innovations to global cleantech leaders and influencers, while also being given the opportunity to establish relationships with potential investors and partners.

This year's HKSTP delegation includes five cleantech companies that will showcase sustainable innovations ranging from a water filtration device to renewable energy technologies and energy management platforms.
The participating companies in the HKSTP delegation are:
* Energybox (http://energybox.com)
Developer of a cloud-based solution that improves energy efficiency via a networking device and an integrated smart communications system.
* Kitenergy (http://www.kitenergy,net/)
A radical innovation in wind energy generation which exploits the power of high-altitude wind in the troposphere and converts it into electricity by means of power kites.
* Liricco Technologies (http://www.valta.com/)
Focuses on home automation and energy management. Its flagship product, Valta, is a cloud-based system that controls and monitors any room with a simple app.
* Monarch Power (http://monarch-power.com/)
A company dedicated to meeting the renewable energy needs of the world, with a strong focus on advanced solar energy solutions
* Wiracocha Ltd
An innovative water filtration device that produces safe and clean drinking water. The product combines ultra-filtration and water storage into a single portable container.
All participants and registered media are welcome to attend the sessions presented by the above Hong Kong companies and connect with the Hong Kong cleantech community in the Marina Room at the Palace Hotel.
Andrew Young, HKSTP's Chief Commercial Officer, said: "Hong Kong Science Park provides a unique living laboratory environment where sustainable innovations are tested and implemented. We take pride in being able to present a unique line -up of cleantech start-ups whose innovations are set to make a positive impact to our lives. We look forward to forming fruitful R&D partnerships with technology leaders, research elites and industry players in the US and welcoming them to choose Hong Kong Science Park as their soft-landing base to explore potential collaboration opportunities with Hong Kong companies."
About Hong Kong Science and Technology Parks Corporation
Comprising of Hong Kong Science Park, InnoCentre and Industrial Estates, Hong Kong Science & Technology Parks Corporation (HKSTP) is a statutory body dedicated to advancing innovation and technology for Hong Kong. Established in May 2001, HKSTP has been driving the development of Hong Kong into a regional hub for innovation and growth in several focused clusters including Biotechnology, Electronics, Green Technology, Information Technology & Telecommunications, and Precision Engineering. We enable science and technology companies to nurture ideas, innovate and grow through the support provided by our R&D facilities, infrastructure, services and programmes which consist of full service incubation programmes for technology start-ups, and market focused laboratories to leverage on state-of-the-art technologies to undertake transformation and advance to new stage of developments. Technology businesses benefit from our specialised R&D services in Hong Kong Science Park; design enterprises can find design-related innovation at InnoCentre, and skill-intensive businesses are being served by our three industrial estates at Tai Po, Tseung Kwan O and Yuen Long.
Featured Product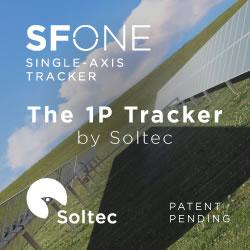 SFOne is the 1P single-axis tracker by Soltec. This tracker combines the mechanical simplicity with the extraordinary expertise of Soltec for more than 18 years. Specially designed for larger 72 an 78 cell modules, this tracker is self-powered thanks to its dedicated module, which results into a lower cost-operational power supply. The SFOne has a 5% less piles than standard competitor, what reduces a 75% the labor time.