Innovative Solar Systems, LLC has already sold approximately 300MW's of "Shovel Ready" Solar Farm projects in 2015 and is on track to sell another 250MW's over the next several months.
Asheville, NC March 13, 2015

Innovative Solar Systems, LLC is a developer of large scale solar farms and is based in Asheville, NC. Company CEO and spokesman, John E. Green states that the company is very excited with the projects already sold this year such as IS42-75MW in Fayetteville, NC and IS46-80MW located in Hope Mills, NC. The company has also sold various 50MW size projects as well as large portfolios of 2MW and 5MW solar farms in this current calendar year and is on track to sell another 250MW's in the next month, mainly 35MW, and 80MW size projects and as much as another 500MW's by year end. These are very exciting times for ISS as the company has already expanded and is developing over 1 gigawatt of projects to be built in various states in 2016.
With the federal tax credits expiring next year and it taking almost one year to construct these 35MW to 80MW size solar farm PV energy plants the push is on for investors to find companies like ISS that have Shovel Ready projects like these that are ready for construction. John E. Green of ISS states that the company is meeting with potential investors and buyers almost daily now as potential buyers review the readily available ISS portfolio of solar farm projects. ISS is working with Alpha Energy as the companies EPC of choice on these projects and has full quotes and turn-key packages ready so that construction can begin immediately on any or all of these great projects.
For more information on large scale solar farm projects, investor relations or to learn more about the current available portfolio of 35MW-80MW construction ready solar farm projects please call Innovative Solar Systems at (828)-215-9064.
Featured Product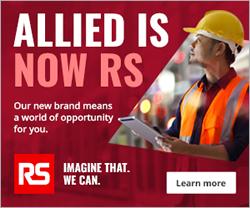 Imagine a global, end-to-end partner for industry - dedicated to solving your problems so you can drive your business forward. We can. On February 6, 2023, we officially changed our name to RS. It's just one way we're evolving to make our partnership and doing business with us even more rewarding. As RS, you have access to more support, more expertise, and more possibilities for your big and small projects - from concept and design to build and maintenance. Going forward, you'll see the RS logo on our website, social media, communications, and packaging. And rest assured, our current systems and procedures will remain intact to seamlessly process your order.