Joseph M. Teltser joins Coronal as deputy general counsel and Dan Barahona is added as controller.
GLENDALE, Calif., March 17, 2015 -- Coronal Group LLC (Coronal), an alternative energy firm that finances and operates solar photovoltaic (PV) projects, announced that Jonathan D. Jaffrey will step into the role of chairman and CEO and that Edwin Feo will assume the position of president. In addition, the company added two executives, Joseph M. Teltser, deputy general counsel, and Dan Barahona, controller.

"As Coronal continues on its path of exponential growth, there is no better time to expand our leadership and vision at the executive level. I am proud to welcome Joseph and Dan, two experienced industry professionals, and to congratulate Ed on his new role with Coronal," said Jonathan Jaffrey, Coronal's chairman and CEO. "It is a privilege to lead Coronal as CEO and an honor to take on the role of chairman. I look forward to working with our leadership team to strengthen our position as an integrated solar energy solution provider for customers across markets in the solar industry."
Jonathan D. Jaffrey is a founder of Coronal and previously funded and was CEO of Renewable Social Benefit Funds. Mr. Feo is also a founder of Coronal and previously was managing partner of USRG Renewable Finance.
Mr. Teltser joins Coronal after spending nearly a decade with Milbank, Tweed, Hadley & McCloy LLP in its Global Corporate group, representing numerous solar, wind, biofuel and traditional energy companies. He earned his bachelor's degree in chemical engineering from Princeton University and his Juris Doctor from the University of California, Berkeley (Boalt Hall). He is a member of the State Bar of California.
Mr. Barahona brings over 15 years of accounting and management experience to the Coronal team. Prior to Coronal, Mr. Barahona worked as the controller for Storage Mobility LLC, where he spearheaded the restructuring of the company's accounting processes and policies. Mr. Barahona earned a bachelor's degree in Business Administration from California State University, Los Angeles.
About Coronal Group LLC
Coronal Group is an alternative energy firm that finances and operates solar photovoltaic projects for institutions, municipalities, corporations and non-profit organizations throughout the North America. The Coronal team brings more than 80 collective years of successful asset and investment management experience and a strong record of solar project development. The company acquired the majority of the assets of HelioSage Energy, a leading provider of solar development solutions and formed Coronal Development Services, LLC, (CDS) in 2015. CDS offers utility and commercial clients a fully integrated, streamlined development solution, from project origination through financing, construction, long-term operation and asset management. In December, 2014 Panasonic Enterprise Solutions Company made a strategic investment in Coronal. Since 2013, Panasonic and Coronal have developed, built and now operate, or are currently constructing, a portfolio of solar systems in North America totaling nearly 100 megawatts (MW) of renewable energy. For additional information, please visit www.CoronalGroup.com.
About Panasonic Enterprise Solutions Company
Panasonic Enterprise Solutions Company, a division of Panasonic Corporation of North America, develops, installs and maintains large-scale Eco Solutions and Audio-Visual Solutions for business and municipal customers. Serving customers across a wide range of industries, the company engineers custom-built applications using the latest technology, experience in end-to-end management of complex projects and unparalleled onsite support services. Panasonic Eco Solutions offers expertise in end-to-end solar energy projects while also delivering technological and financial solutions to the rapidly expanding commercial and industrial renewable energy markets. An industry leader in Audio-Visual Solutions, the company has installed some of the largest high-definition LED video boards in the world at many well-known sports and entertainment venues in the U.S. In Interbrand's 2014 annual "Best Global Green Brands" report, Panasonic ranked number five overall and the top electronics brand in the report.
Learn more: panasonic.com/pressroom. For more information visit: http://www.panasonic.com and http://us.panasonic.com/business/pesna/.
Featured Product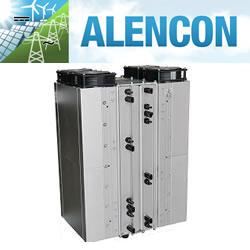 Alencon Systems is the premier manufacturer of high power, high voltage DC:DC optimizers for alternative energy applications including solar, battery energy storage, Microgrids, Fuel Cells and Electric Vehicle charging. Alencon's DC:DC converter offerings include the SPOT, BOSS and CUBE series DC:DC converters. The SPOT is a modular, uni-directional DC:DC solution ideal for solar applications. The BOSS is a modular, bi-directional unit for use with battery energy storage. The CUBE is a monolithic DC:DC converter which is available in both uni-directional and bi-directional modalities. Pictured above, is the Alencon SPOT.