MIREC WEEK 2015 will feature top-level government speakers, as well as experts and key players from the industry ---The event will address challenges and opportunities of new regulation, operation and financing processes of wind, solar, geothermal and hydro projects in Mexico
Green Power Conferences in collaboration with the ANES announced MIREC WEEK 2015, the leading clean energy industry event to be held in Camino Real Hotel in Mexico City from May 18th to 21st. The event will gather key clean energy players: developers, investors, experts, government officials and industry leaders.

Recently, the Ministry of Energy announced the draft rules of wholesale electricity market, seeking for a clear and transparent framework for operation of the sector and the promotion of competitiveness, said César Hernández Ochoa, Undersecretary of Electricity. The bases are in a consultation process on the Federal Regulatory Improvement Commission (COFEMER) and it is expected that the first market trials will take place in September/October; the market should be operating by January 2016.
With the wholesale electricity market in operation, great opportunities are expected to come for both domestic and foreign companies to invest in Mexico and compete in generation and transmission projects. Pedro Joaquín Coldwell, Minister of Energy recently announced an estimated investment of US$23.7 million in the construction of new power plants, of which around US$3,300 million will come from private independent producers. In addition, Mr. Joaquín Coldwell anticipated a total investment of US$4,450 million in the modernization and expansion of the transmission network.
In this context MIREC WEEK 2015 will be held, gathering more than 900 national and international delegates and over 100 speakers. MIREC WEEK 2015 will also feature an exhibition area with the participation of more than 70 leading companies of the clean energy industry. Featured confirmed speakers include:
* César Hernández Ochoa, Undersecretary of Electricity, SENER
* Alberto Valdés, President, ANES
* Antonio López-Puerta Hernández, CEO, Iusasol
* José Pablo Fernández, CEO Grupo Dragón
* Fernando Arriaga, CEO, Granite Chief
* Luis Gutiérrez Negrín, President, Asociación Geotérmica Mexicana
* Gerardo Eriart, CEO, ENAL
* Kai Schluetter, CEO, INTERNOVUM Solar
For more information and to download the latest brochure please visit: www.mirecweek.com
Featured Product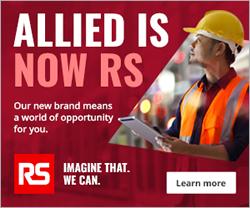 Imagine a global, end-to-end partner for industry - dedicated to solving your problems so you can drive your business forward. We can. On February 6, 2023, we officially changed our name to RS. It's just one way we're evolving to make our partnership and doing business with us even more rewarding. As RS, you have access to more support, more expertise, and more possibilities for your big and small projects - from concept and design to build and maintenance. Going forward, you'll see the RS logo on our website, social media, communications, and packaging. And rest assured, our current systems and procedures will remain intact to seamlessly process your order.