Global market value for solar Photovoltaic inverters will decline from estimated $5.7 billion in 2014 to around $5.2 billion by 2020 ----Falling cost of inverters continues to reduce market size, with prices expected to decrease by 20–25% in the forecast period, says report
LONDON, UK (GlobalData), 24 March 2015 - The global market for solar Photovoltaic (PV) inverters will decline in value from an estimated $5.7 billion in 2014 to approximately $5.2 billion by 2020, due to the rapidly decreasing cost of inverters, according to research and consulting firm GlobalData.

The company's latest report* states that while the annual addition of solar PV systems is increasing globally every year, the falling cost of inverters continues to reduce the market size, with prices expected to decrease by 20–25% in the forecast period to reach $0.13 per Watt (W) by 2020.
A solar inverter converts direct current electricity generated from solar PV panels into alternating current to facilitate both grid connectivity and use with appliances.
Prasad Tanikella, GlobalData's Senior Analyst covering Power, says: "The average PV inverter price was $0.48 per W in 2010, following a sharp decline of around 60% over the preceding four years. The price will continue to drop as major tariff cuts impact installations and demand for PV inverters by 2020.
"Manufacturing costs of PV inverters will also fall with improving economies of scale. The expansion plans of large manufacturers, such as SMA Solar Technology, Power-One, KACO New Energy and Refusol, will increase their supplies and saturate the market."
The analyst adds that of the world's top 15 solar PV inverter manufacturers, 10 are headquartered in Europe, while five are based in North America and Asia-Pacific.
Tanikella explains: "Germany-based SMA Solar Technology is the largest PV inverter manufacturer in the world, with an estimated production share of 9–11% in 2014. This is closely followed by Chinese company Sungrow, which is estimated to have held 9–10.5% of the global market in 2014.
"Swiss firm ABB was previously the second largest manufacturer after SMA Solar with a share of around 10% in 2013. However, the company accounted for a decreased share of approximately 4–5% in 2014 due to lower installations in the European region, which is its major market."
*Solar PV Inverter Market, Update 2015 – Segmentation, Market Size, Competitive Landscape, and Analysis to 2020
Featured Product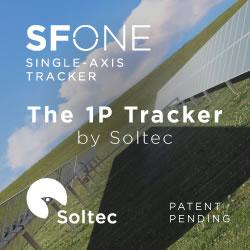 SFOne is the 1P single-axis tracker by Soltec. This tracker combines the mechanical simplicity with the extraordinary expertise of Soltec for more than 18 years. Specially designed for larger 72 an 78 cell modules, this tracker is self-powered thanks to its dedicated module, which results into a lower cost-operational power supply. The SFOne has a 5% less piles than standard competitor, what reduces a 75% the labor time.