Innovative Solar Systems, LLC is in the process of selling the company's remaining 500 Megawatts of "Shovel Ready" Solar Farm projects in North Carolina so that investors will have the ability to start construction immediately and then fully utilize the 30% federal tax credits in 2016 once the solar energy plants are on line.
Asheville, NC March 24, 2015

With the 30% federal tax credits set to expire at the end of 2016 the rush is on for investors to find, purchase and build large scale solar farm project so that the systems can be operational by December 31, 2016 and thus fully utilize the tax credits granted by the U.S. Federal Government. Large scale solar farm projects like the current 35MW, 40MW, 50MW and 80MW size projects that Innovative Solar Systems has for sale will take anywhere from 6-12 months to construct so buyers and investors alike seeking these types of utility scale projects are running out of options and places to find construction ready solar projects like the current 500MW portfolio of projects that ISS is in the process of selling.
Getting utility scale solar farm projects approved and ready for construction can literally take years as in the case of these current projects so when a solar farm development company like ISS has projects that can be purchased and built immediately the projects themselves become a rather hot commodity with large investors that need these types of large tax shelters before they expire in 2016. A large portion of a projects rate of return is dependent upon the owner of the project being able to utilize these 30% federal tax credits so once the credits expire in 2016 few if any large scale projects will get built since the returns at that point will be small compared to present returns.
For more information on the current portfolio of 35MW-80MW utility scale solar farm projects for sale by Innovative Solar Systems please call (828)-215-9064 today.
Featured Product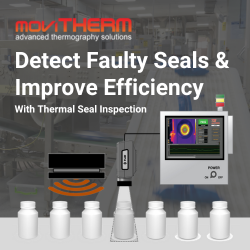 MoviTHERM's Thermal Seal Inspection (TSI) solution provides precise and reliable detection of defects in a variety of packaging types, including pouches, bags, blister packs, bottle caps, and more. By detecting defects in your packages, the TSI solution helps increase efficiency in your production line and ensures top-quality packaging is delivered to your customers every time. With state-of-the-art technology and an experienced team, MoviTHERM is dedicated to delivering accurate inspection solutions and peace of mind to its clients. Contact MoviTHERM today to learn more about their thermal seal inspection solution.