A combined heat and power (CHP) system at the Toledo Museum of Art has surpassed 400,000 hours of operation – contributing to the Museum's overall savings of 80 percent of electricity use per year.
Toledo, Ohio (March 27, 2015) – A combined heat and power (CHP) system at the Toledo Museum of Art has surpassed 400,000 hours of operation – contributing to the Museum's overall savings of 80 percent of electricity use per year.

Representatives from Capstone Turbine and GEM Energy presented an award to the Toledo Museum of Art in recognition of the CHP system operations milestone at a Green Energy Ohio workshop at the Museum.
The four C65 Capstone microturbines on-site supply heating and electricity through cogeneration. The microturbine system supplies the museum with 260kW of continuous electricity and 1.6 million btu of heat, equal to the amount of electricity consumed by 250 homes.
"Every dollar that the Museum saves on energy is a dollar that can be used for programming to benefit our community and advance our purpose of art education," said Carol Bintz, Chief Operating Officer at the Toledo Museum of Art.
GEM Energy, of the Rudolph Libbe Group, installed the microturbines in 2003. Twelve years ago, the Museum's CHP system was a landmark energy project – Ohio's first microturbine installation and the first in Ohio to include a net metering agreement with First Energy.
"Capstone is proud to recognize another long-running and reliable site that has been providing both environmental benefits and cost savings to the museum for over a decade," said Marc Rouse, Director of Sales in America at Capstone Turbine.
"The Toledo Museum of Art is a national leader in sustainability, as well as a world-renowned art museum and educator," said Hussien Shousher, President of GEM Energy. "The Museum committed to an investment in its future with this energy project, and it's been exciting to watch that investment increase in value for our customer over the years. Our customer has impacted how others have invested in energy efficiency locally."
As one of the few museums nationwide to implement comprehensive sustainable practices, the Toledo Museum of Art is a model for other museums, arenas and large facilities that require significant amounts of energy. The Museum's 250,000-square-foot, two-story main building holds 30,000 works of art. The 4.5 acres of floor space include 45 galleries, 15 classroom studios, the 1,750-seat Peristyle concert hall, a 176-seat lecture hall, a café and boutique.
The sustainable microturbines allow the Museum to conserve energy, while still maintaining the precise temperature and humidity levels required to preserve its art collection and ensure the comfort of visitors.
Capstone Turbine Corporation (www.capstoneturbine.com) (Nasdaq:CPST) is the world's leading producer of low-emission microturbine systems and was the first to market commercially viable microturbine energy products. Capstone Turbine has shipped approximately 8,000 Capstone Microturbine systems to customers worldwide. These award-winning systems have logged millions of documented runtime operating hours. Capstone Turbine is a member of the U.S. Environmental Protection Agency's Combined Heat and Power Partnership, which is committed to improving the efficiency of the nation's energy infrastructure and reducing emissions of pollutants and greenhouse gases. A UL-Certified ISO 9001:2008 and ISO 14001:2004 certified company, Capstone is headquartered in the Los Angeles area with sales and/or service centers in the New York Metro Area, United Kingdom, Mexico City, Shanghai and Singapore.
GEM Energy, of the Rudolph Libbe Group, is a full-service, authorized Capstone MicroTurbine distributor for the states of Ohio, Michigan, Indiana and New York (outside of the five boroughs, Long Island and Westchester County). We have over 50 advanced power system installations in our region. In addition to equipment sales, GEM Energy designs, integrates, installs and services combined heat and power systems working with engineering firms and owners.
Featured Product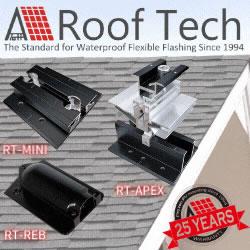 Now Roof Tech brings you the most innovative, watertight mounting systems ever developed for solar photovoltaic systems. Designed and manufactured exclusively for us by Japan's longtime leader in roofing technologies, Roof Tech products are 100% code-compliant and offer fast, simple installation and huge savings on shipping costs due to their compact, rail-less design. Learn more about our full line of versatile PV mounting solutions now available for residential installations. The next generation in rooftop solar mounting solutions."